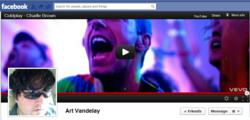 Facebook Cover Video
(PRWEB) December 19, 2012
DCCV has announced the release of their next generation Facebook application that is going to completely change users browsing experience on their and their friends' profiles.
The application called Coverhip enables Facebook users to enrich their personal timeline profile with significant digital content – their favorite YouTube video! The video replaces the big cover photo currently used. First adopters of the application say that this is one of the coolest they've ever seen.
Coverhip provides new entertaining options with your timeline profile. Users can choose how they would like to be seen (or heard!) on their profile by choosing a daily favorite song, trailer or any other video content that also says something about themselves. They can also use Coverhip to dedicate a favorite song to their friend or loving once!
The application works together with internet browser extension and it is a totally social product, meaning that only those who have installed the extension will be able to see it run on their friends profiles.
Setup is quite easy. After approving the Facebook application and installing the browser extension, simply search for a video from YouTube search. Choose a video and it will appear on your Facebook timeline profile immediately.
DCCV aims to turn the web into a more exciting place for the consumption of digital content, without changing the same websites and pages we visit today.
Direct link to the application: https://apps.facebook.com/coverhip
For more information contact us at: support(at)coverhip(dot)com