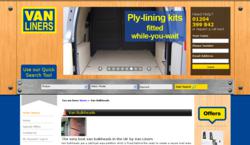 The revamped website then gave us an ideal opportunity to launch our latest product lines from new suppliers Rhino and Vanguard
Bolton, Lancashire (PRWEB) December 18, 2012
Vanliners, suppliers of van ply lining solutions, van racking, modular racking and bespoke vehicle conversions from their head office in Bolton, Lancashire is proud to announce the re-launch of their company website and ranges of new product lines from Rhino Products and Van Guard.
Established over fifteen years ago, Vanliners was built on a strong foundation of long-term customer partnerships based on the highest standards of quality and exceptional service.
The company enjoyed rapid growth quickly and became the market leader in van racking, ply lining and commercial vehicle accessories, offering a range of vehicle and van ply lining solutions, security systems, modular racking, telematics and bespoke vehicle conversions.
Shaun Taylor is a sales manager at Vanliners, suppliers of van racking and van roof racks. 'Our growing number of customers is varied - we regularly supply start-up enterprises and one-man business right through to blue-chip organisations - which I think speaks volumes about the quality products and services we have on offer'.
The website re-launch was proudly facilitated by Vizcom Design Bolton website designers who produced innovative new graphics ensuring that Vanliners' online presence had the impact it deserved.
'We also built on the existing layout to improve site navigation,' explains Daniel Robinson, owner of Vizcom Design. 'This allowed Vanliners to showcase an even broader range of products and services online.'
'The revamped website then gave us an ideal opportunity to launch our latest product lines from new suppliers Rhino and Vanguard,' says van roof racks supplier, Shaun Taylor. 'We're pleased to become official suppliers of such high quality products,'
Based in Exeter, Vanguard has been a market leader with over 30 years industry experience supplying quality commercial vehicle kits to companies around the country.
'Vanguard employs a dedicated team of designers and engineers,' says Shaun Taylor, supplier of van roof racks. 'This ensures that all of their products maintain constantly high quality standards as their designs evolve with vehicle models and upgrades.'
Rhino are a Deeside based company who manufacture roof bars, modular racks and accessories for commercial vehicles.
'Rhino can supply us with durable and most importantly bespoke products we need to cater for our customers' needs,' says Shaun Taylor, sales manager for Vanliners who provide roof racks for vans and other commercial vehicles.
'Whereas we provide van ply lining for larger commercial vehicles like trucks and vans, we also need to be able to provide products for smaller vehicles often used by small companies and self-employed tradesmen. Rhino provides everything we need and at the right price - which I'm sure our customers will appreciate us for!'
The launch of the new look Vanliners website in December 2012 has generated a lot of attention and feedback from existing customers.
'We have been contacted by several of our customers already complementing our online presence,' says Shaun Taylor, sales manager for Vanliners, suppliers of bespoke roof racks for vans. 'We're always welcome to receive feedback related to our products, services and especially our presence online, as these days a company needs the best possible impact on the internet possible - it is indeed the market place which never sleeps.
With our new lines from Rhino Products and Vanguard extending our product ranges of roof racks for vans, ply lining and modular lining further, we are anticipating 2013 to be our most successful year yet. '