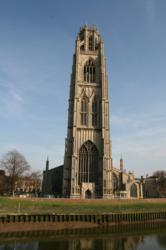 Rt Rev Nicholas Holtam, Bishop of Salisbury and Chair of the National Churches Trust Grants Committee said:

"Churches are at the heart of their communities and bring people together in a way that makes life better.
(PRWEB UK) 20 December 2012
National Churches Trust's £360,000 Christmas boost for historic churches but warns that places of worship face growing funding gap.
17 places of worship in England, Scotland and Wales are to share in a £360,000 funding pay-out, announced by the National Churches Trust. Nine of the churches awarded grants are on the English Heritage 'At Risk' Register.
The latest grant announcement concludes a year in which the charity has awarded or recommended funding of approximately £1.5 million to churches, chapels and meeting houses. (The final audited total will be available in early 2013).
Top of the 2012 list of funding requests received by the charity include repairs to roofs, stonework and towers and the provision of toilets, kitchens and disabled access.
But the National Churches Trust, an independent charity which supports Christian places of worship throughout the UK, is warning of a funding gap posing a threat to the future of church buildings and is calling for more people to get involved in their upkeep.
Churches receiving grants include:
St Botolph's Church, Boston Lincolnshire, (Grade I Listed)
Better known as the Boston Stump, one of the largest and one of the most significant historic churches in the country. A £50,000 National Churches Trust Cornerstone Grant will help fund the repair and restoration of the Cotton Chapel, a tribute to John Cotton, the non-conformist minister who served here from 1612 to 1633 before sailing to Boston, Massachusetts as part of the Puritan exodus.
St Wilfrid's Church, Halton, Leeds, Yorkshire (Grade II* Listed) (On the English Heritage 'At Risk' Register)
Pioneering in its use of concrete vaulting, this 20th Century church bridges the gap between the Arts and Crafts style and modernism. A £40,000 National Churches Trust Cornerstone Grant will help fund repairs to a badly leaking roof.
Collegiate Church of St Mary de Castro, Leicester, Leicestershire (Grade I Listed) (On the English Heritage 'At Risk' Register)
Described as "the jewel of Leicester's churches", King Henry VI was knighted in St Mary's in 1426 and it is also thought that Geoffrey Chaucer was married here. Perhaps the last reigning monarch to worship in St Mary's was King Richard III, and his body may have rested at the church briefly after the Battle of Bosworth. A £40,000 National Churches Trust Cornerstone Grant will fund major repairs to the church spire.
Memorial Community Church, Plaistow, London (Grade II Listed)
The Memorial Baptist Church building was opened in 1922 to house the church and its welfare work Memorial Community Church was formed in January 2006. The church is a vital and welcoming community hub. A £40,000 National Churches Trust Cornerstone Grant will help fund urgent repairs to high-level brickwork on the central section of the west front.
Almeley Wootton Friends' Meeting House, Almeley Wootton, Herefordshire (Grade II* Listed)
The Meeting House has been continually used by the Society of Friends since it was adopted by the Society in 1672. Almeley Wootton Meeting has historic links to William Penn and Pennsylvania with several members of the meeting being the first settlers of the new colony and signatories on the first constitution. A £40,000 Community Grant, funded by the 2012-2013 DCMS Capital Grants Scheme, will help fund a project to enlarge the building and provide much needed community facilities.
Rt Rev Nicholas Holtam, Bishop of Salisbury and Chair of the National Churches Trust Grants Committee said:
"Churches are at the heart of their communities and bring people together in a way that makes life better. In the current economic downturn it is crucial to keep churches repaired - If a church roof leaks, then the building gets damaged and you get a bigger problem. The National Churches Trust also helps support work to make places of worship more useable, such as installing kitchens, toilets and access for the disabled. We want churches that are being put to good use, not just for congregations but also for the wider community."
Claire Walker, Chief Executive of the National Churches Trust said:
"The grants of £360,000 we have announced today are an early Christmas present for 17 Christian places of worship in England, Scotland and Wales. The funding will allow them to repair historic architectural features, remain open and safe, and better serve both their congregations and the wider community."
"2012 has seen another increase in the number of places of worship applying to us for grants. This year 678 places of worship applied to us for grants, up from the 618 applications we received in 2011. Thanks to the generosity of our donors, in 2012 we have been able to maintain our level of funding support to help churches, chapels and meeting houses of all the main Christian denominations."
"In 2012, the National Churches Trust has seen that more of the UK's Christian places of worship face a funding gap. The economic slowdown means that places of worship applying to us for grants have less money to cover the costs of running their buildings. It is now rare for a church to be able to pay for major repairs and modernisation, which often runs tomany hundreds of thousands of pounds, without external funding support."
"At the heart of the nation's history and landscape, churches, chapels and meeting houses are part of our heritage and are some of Britain's most loved local buildings. So this Christmas, when people visit a church for carol singing, a Christmas service or even to buy some charity cards, I hope they will take a moment to think about how they can help ensure that churches remains open, safe and welcoming for the rest of the year as well. "
"Everyone who cares about local churches can make a contribution to their future. That could be by becoming involved in a church heritage or history project, by volunteering to help out as a guide or steward or even learning how to help clear the drains and gutters to help keep the church watertight."
"In 2013 more places of worship will continue to need funding for essential repairs and modernisation. Next year, I hope that more people will join our growing number of Friends and support our work so that the National Churches Trust, an independent charity, can continue to invest in the future of the UK's churches, chapels and meeting houses."
Full information on all the grants awarded at http://www.nationalchurchestrust.org