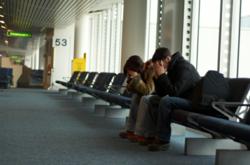 East Hartford, CT (PRWEB) December 19, 2012
The 2012 holiday season is predicted to experience an increase in the number of individuals traveling during this time of the year. AAA has released a statement projecting that 93.3 million Americans will travel 50 miles or more from home during the year-end holidays, which is an increase of 1.6 percent from the 2011 holiday season. The holiday travel period has been determined by the amount of travel between Saturday, December 22 and Tuesday, January 1, 2013. Along with a greater volume of travel, increased prices have been reported for travel expenses including hotel rooms, rentals, and flights.
Travel Insured International®, a leading provider of travel insurance for holiday travelers, offers holiday tips for determining the best course of action for this period when a record number of individuals will be traveling and chance for travel disruptions to occur is drastically increased, resulting in losing a bigger travel investment. Travel insurance coverage will aid in minimizing loss when you are faced with unforeseen circumstances that are most likely to occur including trip delays, losing pre-paid expenses, or having your personal belongings stolen or lost.
Protect Against Trip Delays
•A good way to attempt to avoid flight delays is to book early morning flights. This provides a better chance for departure in inclement weather rather than a flight on an aircraft which must first arrive from another airport.
•When a scheduled flight is cancelled late in the day, the next available flight to your destination may not be until the following day. Travel Insured International Trip Delay coverage can reimburse unused trip costs, and expenses incurred for unforeseen meals and accommodations up to limits specified on your selected plan. Trip Delay coverage requires a continuous delay of six or 12 hours, depending upon the selected plan.
Insure Prepaid Expenses
•If you are booking a hotel reservation, by including the cost of the hotel accommodation in the prepaid cost of the insured trip, travelers can protect this expense if they must cancel their trip for a covered reason.
•Hotels themselves may collect a cancellation penalty under terms and conditions of their rate discount or reservation guarantee if you are forced to cancel. Insurance can cover the amount you might be forced to pay.
•Let your hotel know as soon as possible. Having to change trip plans due to an unforeseen circumstances such as inclement weather may allow you to escape any fees all together.
Protect Holiday Travel Scams
•During the holidays theft is high, keep an eye on your bags at all times. Watch them through all security scanners and wait to make sure they are not left at the baggage check point.
•Baggage & Personal Effects coverage is included in all of its Worldwide Trip Protector line of plans, as well as its Airline Ticket Protector plan. The maximum limits of coverage per insured passenger range from $750 to $2,500, depending upon the specific plan selected. Each of the plans includes a maximum limit of $250 per item, and a combined limit of $500 on certain types of valuables including jewelry items, furs, computer equipment, cameras and sports equipment.
•The Baggage & Personal Effects coverage can reimburse your charges and interest due to any unauthorized use of your credit cards during your trip up to maximum limits for this benefit. Fees for replacing passports are also covered.
Purchasing the right travel insurance plan will allow for an enjoyable holiday season and reduce the stress of losing your travel investments. Travel Insured International® wishes you a Happy Holiday!
This document contains highlights of the plan. A complete description of the terms, conditions and exclusions of this plan will be provided once the plan is purchased. Please note; Residents of GA, KS, LA, MN, OR, SD, TX, UT, and WA will receive a separate Certificate of Insurance in compliance with state requirements. Plans are underwritten by the United States Fire Insurance Company. Fairmont Specialty and Crum & Forster are registered trademarks of United State Fire Insurance Company. The Crum & Forster group of companies is rated A (Excellent) by AM Best Company 2012. Not all coverage available in all jurisdictions.
Travel Insured International®
52-S Oakland Ave.
E. Hartford, CT 06128-0568