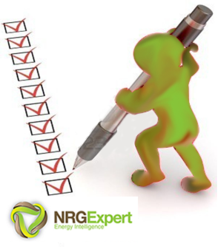 This month, to celebrate the holiday season, NRG Expert have launched a tough energy quiz
London (PRWEB UK) 19 December 2012
1. How much is the global water and waste market worth?
2. How many jobs can the shale gas industry support by 2035?
3. By how much can the roll-out of Electricity Smart Grids, reduce CO2 emissions by 2020?
4. In the US what percentage of energy demand will come from renewables by 2040?
5. How much will need to be invested in Energy infrastructure on an annual basis up to 2035 to meet the world's insatiable and growing energy demands?
To create the quiz, NRG Expert scoured the NRG Expert website and over 1000s of lines of data in their global energy databases to ask 5 tough energy questions. All the answers are on the NRG Expert website. To complete the quiz and view the clues visit the NRG Expert website: http://www.nrgexpert.com
Background information
NRG Expert provides up to date energy data, information and analysis on worldwide energy markets, including electricity, natural gas, coal, nuclear, renewable energy, water and waste, and energy infrastructure. All the answers to the quiz are freely available on the NRG Expert website http://www.nrgexpert.com