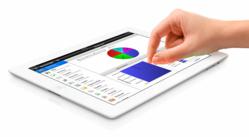 "Our great success in 2012 is our commitment to keep up with the latest mobile technologies and improve Resco Mobile CRM solution based on customer feedback."
(PRWEB) December 20, 2012
Resco, a leading provider of mobile software solution for Microsoft Dynamics CRM, releases today the Resco Mobile CRM Quality Improvement Update, bringing significant enhancements to the Mobile CRM app and its customizations tool.
"Huge penetration of smart mobile devices such as smartphones and tablets cause natural need for powerful and easy to customize mobile CRM solution," said Ivan Stano, Head of Marketing and Partner Channel. "Our great success in 2012 is our commitment to keep up with the latest mobile technologies and improve Resco Mobile CRM solution based on customer feedback."
Amongst other developments, the new release of Resco Mobile CRM brings:

AES Encryption of the Database
Better Visualization of All Day Events in Calendar
Dashboards on Phone Platforms
Force Full Sync
Possibility to Change and/or Hide the Device Settings in Woodford
Activate/Deactivate Form Rules
String, Numeric, Date Form Rule Functions
Reminders for Tasks and Appointments (iOS and Windows Phone 7)
View Configuration for Associated Lists and Activity Party Lookups
Option of Converting Emails into Leads
As Resco remarks, it is truly grateful to its partners and customers for actively participating on the development of the solution. Their ideas and suggestions were the ones that greatly helped with identifying the needs of the mobile app users.
In the future, users can expect further enhancements of Resco Mobile CRM. As Resco states, they strive for nothing less than the leading position in providing mobile CRM solution, which can be only achieved by keeping a high quality of the product itself.
About Resco Mobile CRM
Resco Mobile CRM for Microsoft Dynamics CRM is an online/offline mobile client for iPhone/iPad, Android, Android Tablet, Windows Phone, Win CE and Windows 7/XP/Vista/8/RT. The application supports features such as custom entities, interactive maps, GPS tracking, photo capturing, dashboards, and many more.
The solution is fully customizable through easy-to-use configurator tool (Woodford), or with the use of a comprehensive .NET based developer platform that provides unlimited customization possibilities (Studio). Its technology leadership has been proven by adding the support of HTML5 and JavaScript, allowing extending the mobile CRM application by the means of web technologies.
For more information visit: http://www.resco.net/mobilecrm
About Resco
Resco was founded in 1999. The company is one of the global leaders in developing cross-platform mobile software solutions. The team of Resco professionals passes on their knowledge of mobile device technology by designing products for corporate customers, developers, integrators and end users. The purpose? Optimizing work and improving productivity.
For more information visit: http://www.resco.net