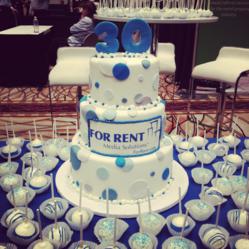 Norfolk, VA (PRWEB) December 18, 2012
From humble beginnings 30 years ago, For Rent Media Solutions™, the leading resource for searching apartments nationwide and a division of Dominion Enterprises, has made incredible advancements in developing complete, cost-effective, diverse marketing solutions for the multifamily housing industry. In 1982, the company debuted For Rent Magazine®, its free apartment listing magazine, in small grocery stores in Seattle, Wash.
Fast-forward 30 years, For Rent Media Solutions now:

Prints and delivers 94 versions of the magazine, including After 55™ Housing & Resource Magazine and Apartamentos Para Rentar® Magazine
Distributes the magazines to more than 190 markets nationwide
Unveiled the rebranding of five product offerings: FRPrint, FRWeb, FRSocial, FRVideo and FRMobile
"Proper branding stands true to a simple, memorable message," said Terry Slattery, president of ForRent.com and Homes.com. "For 30 years, we have built For Rent's brand and reputation, so it seemed fitting to simply put 'FR' in front of each of our product offerings. Our customers, whether they have been with us for 30 years or three weeks, know we are experts within the industry and are committed to their success. When it comes down to it, our diverse offering of marketing solutions works—it really is that simple."
As multifamily industry and rent trends evolve, so do the product solutions offered by For Rent Media Solutions. To support the industry, For Rent has five consumer-oriented websites, mobile sites, apps, videos and a thriving, resident-facing social media presence. These marketing touch points allow apartment shoppers to easily find their next apartments in the manner they prefer -- anytime, anywhere.
For Rent Media Solutions doesn't stop there. Believing the company only gets better with age, here are some innovative actions For Rent Media Solutions has taken in its thirtieth year:
Launched the Reputation Management tool within FRSocial
Created a text messaging tool to support resident retention and prospect follow-up
Hosted multiple, successful contests on Facebook, Twitter, Pinterest and Instagram
Launched ForRentUniversity.com, the Internet listing site dedicated to college renters
Donated to two separate charities and one family devastated by Hurricane Sandy on behalf of For Rent Media Solutions' customers
"We have experienced so much positive change during the past 30 years," said Slattery. "But it is most important that we impart a heartfelt thank-you to the people who have gotten us to where we are—our clients. Their trust and loyalty are our most cherished assets."
For Rent Media Solutions strives to bring its customers a diverse, mixed media solution to help enhance communities' brand messaging, maximize communities' occupancy rates, and build solid resident retention programs.
About For Rent Media Solutions™
Founded in 1982 as For Rent Magazine®, For Rent Media Solutions™ is headquartered in Norfolk, Va., and provides multifamily housing solutions for apartment seekers and property/apartment managers and owners through integrated marketing techniques, including print and Internet, mobile media, custom video and social media solutions. For Rent Media Solutions operates For Rent Magazine Apartamentos Para Rentar®, and publishes 94 magazines covering more than 190 markets nationwide, including After 55™ Housing & Resource Guide, and ForRent.com™-The Magazine. For Rent Media Solutions operates five additional websites: ForRent.com®, SeniorOutlook.com®, CorporateHousing.com® and ParaRentar.com®, and ForRentUniversity.com®. Visit ForRent.com for more information, or visit us on Facebook, Twitter, YouTube and LinkedIn.
About Dominion Enterprises
Dominion Enterprises is a leading marketing services and publishing company serving the automotive, recreational and commercial vehicle, real estate, apartment rental, employment, parenting, and travel industries. Headquartered in Norfolk, Virginia, with 3,300 employees in the United States, Canada, England, Sweden and Italy, the company provides a comprehensive suite of technology-based marketing solutions, and more than 45 market leading websites. Millions of For Rent®, Employment Guide® and HotelCoupons.com® publications are distributed across the U.S. each year. For more information, visit DominionEnterprises.com.
###