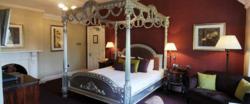 It's a luxurious hotel small enough to offer unrivalled personal service but large enough to enjoy a party of perfect proportions.
Peak District, UK (PRWEB UK) 20 December 2012
A luxury hotel in the heart of the Peak District countryside is offering a cracker of a Christmas present to those who are quick off the mark.
With just over a week to go, Christmas is in elegant swing at the country house hotel so close to Chatsworth - East Lodge in Rowsley. Nestling amongst spectacular Derbyshire scenery, East Lodge is charming, timeless, and secluded. It's a luxurious hotel small enough to offer unrivalled personal service but large enough to enjoy a party of perfect proportions. Booking into a luxurious room for two wonderful silent nights is simply a phone call away, as they launch their wonderful Christmas present special offer - 2 nights accommodation for the price of one, for the 29th and 30th of December.
'We're offering the chance to unwind after Christmas, a time to take care of you,' explains David Hardman, owner of the award winning East Lodge and also the spectacular Callow Hall in Ashbourne.
'To take a breather from all the hassle, to be waited on and looked after in style and sophistication is what we do with ease every day here at East Lodge.'
'Dine in the exquisite triple AA Rosette awarded restaurant and sample the sumptuous local produce this area of the Peak District has to offer,' suggests David, head of the family run hotel, in sophisticated and comfortable surroundings. East Lodge pride themselves on providing outstanding hospitality but also knowing when to let their guests have time to themselves.
"It's the small details which get missed at Christmas and we are here to cater to your every whim. Everything is home made to chef's special recipe, even the hand churned butter. It's the break neck speed at which Christmas arrives, then departs, that needs to be addressed," says David. "It often needs a break away to re charge the batteries, to start again for New Year celebrations. We are offering the chance to get away from all the hard work of entertaining, and be entertained yourself. Here at East lodge we are welcoming, pampering and professional, but we are also very genuine, unstuffy and unassuming above all else."
To be rewarded for hosting the hectic family Christmas, or having the chance for a couple to be together away, is what most would want after the crescendo that is Christmas, calms down a little pre New Year.
'How lovely to simply get away from all the strains of other relations,' they say. It's a special offer and a gift, tailored to every taste. East Lodge country hotel is offering two nights at their award winning hotel, for the simple price of one but time is short and rooms are being booked fast.
"We have a wonderful special offer between Christmas and New Year, the chance for mum to take a break from cooking and dad to relax and unwind for a time. It's time to let us pamper you, and to let my family and my wonderful welcoming staff look after you for a change.'
The East Lodge seasonal special accommodation this year is the chance to take dinner in the beautifully decorated restaurant and enjoy 2 nights bed and breakfast for the price of just one. This offer applies for the 29th and 30th December with guests required to dine at the restaurant on one night. Details are always available about other seasonal special offers, directly from the website http://www.eastlodge.com
Article supplied by http://www.peakdistrictonline.co.uk