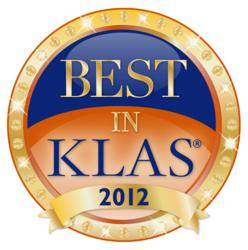 "The Best in KLAS award reaffirms our position and dedication to the healthcare IT industry," said Scott Coons, President and CEO, Perceptive Software.
Shawnee, KS (PRWEB) December 18, 2012
Perceptive Software, creator of process and content management products and solutions, announced today that Perceptive Software healthcare products and solutions have been ranked the top healthcare Document Management and Imaging (DMI) software product, according to the 2012 Best in KLAS Awards: Software & Services report, an independent ranking based on customer feedback on top healthcare information technology vendors.
Perceptive Software's overall score and product quality rating of 89.7 was the highest rating among vendors in the DMI segment of the 2012 Best in KLAS report. The average vendor rating for the DMI segment was 80.92, according to the report. Of the Perceptive Software customers surveyed, 94 percent said they would buy healthcare products and solutions from Perceptive Software again.
Perceptive Software has ranked among the top five vendors in the Document Management and Imaging category every year since 2007.
"Providers recognize the critical nature that vendors play in improving healthcare delivery," says Adam Gale, KLAS president. "Thus, a growing number of providers are weighing in on vendor performance. It speaks volumes that providers want to be heard and be counted. And vendors are listening."
Perceptive Software healthcare solutions complete the paperless medical record by delivering all patient content within the context of the EMR, resulting in a comprehensive patient record that enables healthcare professionals to make better clinical, financial and operational decisions.
"It is a significant honor for Perceptive Software to once again be named a leading healthcare solution," said Scott Coons, President and CEO, Perceptive Software. "The Best in KLAS award reaffirms our position and dedication to the healthcare IT industry, as we work with them to provide scalable and flexible solutions that seamlessly integrate with their health information systems, providing a holistic view of the information they need, when they need it, to make the most informed decisions for their healthcare organizations and the patients they serve."
To view the full Best in KLAS 2012 report, go to:
http://www.klasresearch.com/News/PressRoom/2012/BestinKLAS2
About KLAS
KLAS is a research firm on a global mission to improve healthcare delivery by enabling providers to be heard and to be counted. Working with thousands of healthcare executives and clinicians, KLAS gathers data on software, services, medical equipment, and infrastructure systems to deliver timely reports, trends, and statistical overviews. The research directly represents the provider voice and acts as a catalyst for improving vendor performance. KLAS was founded in 1996, and their staff and advisory board average 25 years of healthcare information technology experience. For more information, go to http://www.KLASresearch.com, email marketing(at)KLASresearch.com, or call 1-800-920-4109 to speak with a KLAS representative. Follow KLAS on Twitter @KLASresearch.
About Perceptive Software (http://www.perceptivesoftware.com)
Perceptive Software, a Lexmark company (NYSE: LXK), builds a complete family of intelligent capture, content and process management, enterprise search and integration products that connect enterprise applications to the processes and information outside those applications, providing the visibility and control needed to improve financial performance, reduce risk and ensure future flexibility.