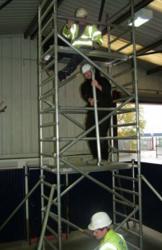 Our clients return to us because they know they can rely on second to none service prior to, during and after their course.
(PRWEB UK) 19 December 2012
National Health and Safety training firm BOSS have announced that the PASMA Tower Training course they offer has proved a rousing success and helped elevate the company to new heights. BOSS is the UK's most well respected provider of all types of workplace health and safety training, from asbestos awareness to working at height. The company recently announced the PASMA Scaffold Tower Training course has become one of the most successful and popular courses they have ever offered and has played a huge part in cementing BOSS as the UK's Health and Safety training leader.
Essential Scaffold Tower training
Mobile Access Towers are an incredibly effective way of getting to those hard to reach work areas safely. Yet falls from height are still responsible for the greatest number of deaths and serious injury within the construction industry.
Working at height is heavily regulated and only a properly qualified person is able to move, dismantle or assemble a scaffold tower. This means that in the majority of construction sites it's impossible to work without proper evidence of PASMA qualifications. To date, BOSS has helped thousands of construction workers to gain the skills, knowledge and expertise they need to work with scaffolding safely.
Successful Teaching
So what is it that keeps clients returning to BOSS year after year? Margaret Wilkinson, a Training Officer at Kirklees Metropolitan Council, explained why they always rely on BOSS for their scaffolding training.
"BOSS Training excel in their attention to detail and first class customer service. (BOSS) Listen to our requirements and deliver to our high standards."
Owner of Bespoke Precast, T. Cullen said "The Knowledge gained from the PASMA course will enable me to complete my work more safely and quickly."
V Clews of Caddick Construction commented that the BOSS training course was "based on common sense and good working practices."
Managing director of BOSS, Andrew Murphy agrees with his many satisfied clients, putting the success of the Scaffold Tower Training course down to the company's service record.
"There are other companies who offer PASMA training courses in the UK, but our USP is the emphasis we place on good service. We've developed a simple and effective booking procedure, provide experienced instructors and deliver certificates promptly and efficiently. Our clients return to us because they know they can rely on second to none service prior to, during and after their course."
Today BOSS is being held up as a shining example of construction industry success in a tough economic climate. Business commentator Cally Thomas believes that the success of the BOSS brand demonstrates that UK construction is back on the up.
"Since the economic collapse every facet of construction has suffered, which has had a detrimental effect on many companies offering services like training to the construction industry. BOSS has shown that it is possible to succeed and grow in a struggling industry if the service you provide exceeds that of your competitors."
The Future of Construction Training
BOSS managing director, Andrew Murphy is predicting continued success for the company over the next year as a number of services new to BOSS are launched. Amongst the new provisions will be a range Health and Safety consultancy services aimed at small to medium sized organisations and Asbestos Removal training. If the current success of the company is anything to go by their new offerings are likely to be a nationwide hit.