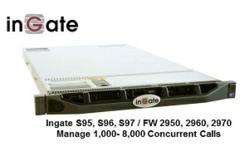 Ingate secures and simplifies deployments of the Lync Unified Communications platform," said Steven Johnson, President, Ingate Systems Inc.
STOCKHOLM (PRWEB) December 19, 2012
Ingate® Systems, a leading provider of Enterprise Session Border Controllers (E-SBCs) that enable SIP communications such as SIP trunking and Unified Communications beyond the protected enterprise network, announced today that the Ingate SIParator® E-SBC has been tested and qualified in Microsoft Corp's Unified Communications Open Interoperability Program for Lync Server 2010, including all optional tests. By achieving this qualification, service providers, enterprise customers and resellers can be confident that Ingate SIParator E-SBCs are fully interoperable with Microsoft's Unified Communications solutions featuring Lync with all feature and security extensions.
Ingate's E-SBCs ensure the secure and reliable use of Microsoft® Lync® applications by securing the connection between the SIP trunking service and the Microsoft environment. The SIParator E-SBC also resolves interoperability issues between other on-premises equipment and the Microsoft Lync server, paving the way for a fast, simplified installation. The same Ingate product can also integrate PBXs and other Unified Communications solutions into the Microsoft environment.
While other certified SBCs may only comply with the basic requirements, the Ingate E-SBC qualification also includes all optional extensions such as TLS, SRTP, DNS load balancing, full failover and full consultative transfer ensuring that users get the most from their Lync environment. The Ingate E-SBCs have also been used by SIP trunk providers to offer Microsoft Lync-qualified SIP trunks, with or without additional security such as TLS and SRTP.
The Ingate E-SBC is a powerful tool that offers enterprises a controlled and secure migration to VoIP (Voice over IP) and other live communications based on Session Initiation Protocol (SIP). The Ingate E-SBC is a unique solution that seamlessly works with any existing firewall to allow the flow of SIP traffic to reach the user in the enterprise, no matter where the user is located.
"Ingate secures and simplifies deployments of the Lync Unified Communications platform, paving the way for rapid installations that meet the strict security requirements necessary for today's businesses," said Steven Johnson, President, Ingate Systems Inc. "We are proud to have fulfilled all requirements at first test pass, showing that Ingate E-SBCs deliver best-in-class functions and features. The Ingate product line spans over a broad range of product capacities, delivered both on hardware and as software, all at a competitive price point."
For more information about Ingate SIParator E-SBCs:
http://www.ingate.com/Products_siparators.php
About Ingate® Systems
Ingate® Systems develops Session Border Controller technology to enable global SIP-based person-to-person communication such as IP telephony, presence, Instant Messaging, video conferencing, IP-PBX connections and Unified Communications. With a history in security, Ingate offers enterprises, service providers and carriers elegant solutions that make trusted SIP communications possible beyond the LAN. These products are delivered both as hardware appliances as well as software for integration on to standalone servers or as applications for virtual machines. The Ingate SIParator is available in configurations with session capacities ranging from 5 to 8,000 calls. Ingate products are used by retail companies, financial institutions, industrial firms, government agencies and small-to-large enterprises throughout Europe, Asia and North America. For more information visit ingate.com.