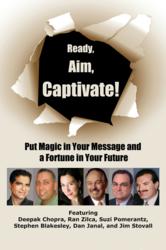 "Nothing happens unless something moves" - Stephen J. Blakesley
Houston, TX (PRWEB) December 20, 2012
On December 18, the fourth in a series of books published by Insight Publishing, Ready, Aim Captivate became an Amazon Best Seller. The book delivers insights and experiences from 90 different experts in nearly as many fields.
Stephen J. Blakesley, one of the contributing authors, believes it is important to get focused on goal-getting rather than goal-setting. "Someone, something must move for change to occur," he says.
Blakesley's contribution to Ready, Aim Captivate! focuses on the current "Talent Wars and How to Win Them." According to Blakesley, many organizations have just given up and work to simply fill a vacancy. Those companies and organizations that excel in the future will have a totally different strategy.
Other authors contributing to the book are Deepak Chopra, Jim Stovall (Forbes says Jim is one of the most extraordinary men of our time) Ran Zilka, and Dan Janal. Those looking for direction in 2013 will find help between the covers of this book.