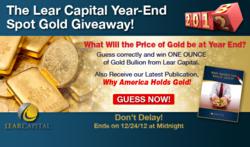 Entry in the Lear Capital Year-End Spot Gold Giveaway is Free, and there is still time to register.
Santa Monica, CA (PRWEB) December 18, 2012
Lear Capital (http://www.learcapital.com), America's Precious Metals Leader, is giving away an ounce of gold! Their Year-End Spot Gold Giveaway contest is in its final days and collecting entries until December 24, 2012. Lear will award an ounce of gold to the closest guess to the final closing price of gold at the end of this year. Lear Capital has previously awarded Gold Bullion and Gold and Silver coin prizes during this year's Olympic Games and Presidential Election.
Experts recommend that investors hold between 10% and 20% of their portfolio in physical gold or silver, and consumers can diversify their assets into different types of gold and silver coins that are easy to convert to cash and in many cases more liquid than stocks or bonds.
Gold has proven to be a constant through explosive world cycles and events and this past year has sent many flocking to precious metals in light of market fluctuations, fiscal cliff concerns, volatile world currencies, and perhaps most compelling of all, the US debt. Today only about 4% of Americans own physical, investment gold. World banks; however, have been on a precious metals spending spree.
Banks know that gold cannot be manipulated or devalued by any government, fund or monetary body. Like any investment body, they are looking for a hedge against economic volatility. Once the biggest sellers of gold to the private marketplace, they are now among the biggest buyers of gold. Last year alone, the world's central banks purchased over 455 tonnes of gold, the second increase since 1988 and the largest jump since 1964.
Consumers can invest in a variety of physical assets including gold bullion coins which are available in varying sizes and designs, and traded in different international markets. Gold coins also come in a wide variety of country-specific offerings like the highly popular American Eagle, the Canadian Maple Leaf, and the South African Kruggerand.
The silver market also offers a variety of investment products including Coins, Bars, and Rounds. Silver coins are by far the most popular investment medium. They are typically 99.99% pure and yet are relatively inexpensive. They are easy to store and transport and can instantly be converted to cash. In addition, they are recognized legal tender and internationally negotiable.
Precious metals are an effective diversifying element to include in your overall financial plan and Lear Capital is a precious metals leader selling gold, silver, platinum, and palladium as well as rare and premium coins. They offer real-time gold pricing, secure ordering, golden IRA's, a Commission-Free Buy Back Program, Lear Lock Price Assurance, streaming precious metals news, historical charts, fiscal preparedness articles, and a comprehensive retirement center.
Entry in the Lear Capital Year-End Spot Gold Giveaway is Free, and there is still time to register. The contest ends at midnight on December 24, 2012 and can be found on Lear Capital's website right now at http://www.learcapital.com.