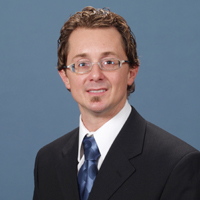 Seeing my patients smile is what makes me look forward to going to work every day.
San Diego, CA (PRWEB) December 18, 2012
Adults, teenagers and children needing affordable braces in the San Diego / La Mesa, CA area have a new choice now that orthodontist Dr. Torin Chenard has joined three SmileCare practices. For a limited time, Dr. Chenard is offering special savings on both traditional metal braces and nearly-invisible braces with clear brackets. From now through Dec. 31, 2012, monthly payments start at $99 with $199 down on a 24-month treatment program. For offer details and to make an appointment for a free consultation, visit http://www.SmileCareOrtho.com or call 1-800-32-SMILE.
Dr. Chenard is an experienced orthodontist who has helped people around the world smile more. He starts seeing patients as young as seven years old, unless the child's doctor or dentist has recommended an earlier evaluation. The American Association of Orthodontists recommends children receive their first orthodontic consultation by age seven to spot any problems with jaw growth and emerging teeth. Dr. Chenard offers a wide variety of orthodontic services including early treatment, traditional braces, clear bracket braces, Invisalign® clear aligners and Clear Correct™ aligners to correct a variety of orthodontic problems including crowding, crossbite, open bite, protruding teeth, teeth that erupted in the wrong place, gaps between teeth and jaw misalignment.
Patient satisfaction is Dr. Chenard's number one priority. "Seeing my patients smile is what makes me look forward to going to work every day," he said.
Dr. Chenard has been involved in several mission trips, providing dental services to the underprivileged in Costa Rica and Nepal. He graduated from the University of California, San Diego and received his dental degree and Certificate of Orthodontics at the University of California, Los Angeles. He completed a residency at the Eastman Dental Center in Rochester, NY and is a member of the American Association of Orthodontists and the American Dental Association. He is fluent in both English and Spanish.
Dr. Chenard will be coordinating orthodontic care with both SmileCare and non-SmileCare general dentists and is treating patients at three locations:
SmileCare Mission Valley
1333 Camino Del Rio South
Suite 202
San Diego, CA 92108
(619) 260-4990
SmileCare La Mesa
5601 Grossmont Center Drive
Suite 200
La Mesa, CA 91942
(619) 462-2272
SmileCare Vista
1010 E. Vista Way
Suite ABC
Vista, CA 92804
(760) 940-8811
SmileCare accepts more than 200 types of insurance, plus offers financing plans. It also offers SmilePlus® for patients without insurance. For more information including videos, before-and-after pictures and special offers, please visit http://www.SmileCareOrtho.com.
###
About SmileCare and Coast Dental
Coast Dental of California Dental Group of ADAM DIASTI, with its professional associations, is one of the largest providers of general and specialty care in the United States with 183 affiliated practices operating as Coast Dental, SmileCare and Nevada Dental Associates in Florida, Georgia, California, Nevada and Texas. Coast Dental Services, Inc. is a privately-held practice management company that provides comprehensive, non-clinical business and administrative services to its affiliated practices. The company is headquartered in Tampa, Florida. For more information, visit CoastDental.com.
Disclaimers:
Effective Jan. 1, 2013 through March 30, 2013, monthly financing for traditional braces starts at $115 with $199 down. Restrictions apply. Not to be combined with insurance, discount dental plans or SmilePlus®. Offer good in absence of gum disease. Standard 24-month treatment program; appliances not included. Ask the office for promotional pricing on cases extending beyond 24 months. Down payment and monthly payments available to qualified applicants. Actual amounts may vary. Alternative financing also available. See office for details. Offer may be combined with other offers for which the patient is eligible. Minimum fee only. Fee may vary with complexity of case. ADA D8080/D8090.The dentists and hygienists are employees or independent contractors of Coast Dental of California Dental Group of ADAM DIASTI, D.D.S. P.C., (Adam Diasti, DDS, Lic. 60596). SC-800308