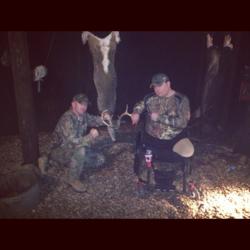 My only hope is that this situation with Delta will help shed some light on their needs, and motivate others to support our efforts.
Daphne, AL (PRWEB) December 19, 2012
On December 17 the Washington Post first reported that double-amputee Marine Corporal Christian Brown was "humiliated" to the point of tears on a Delta flight from Atlanta to Washington after being clumsily wheeled to the back row of the plane, according to a complaint sent to the airline by an outraged fellow passenger. Brown's legs had been blown off above the knee by an explosive device one year earlier in Afghanistan. He was flying back to Walter Reed Hospital for additional treatment after spending a weekend hunting in Central Alabama with the A HERO Foundation, which provides outdoor hunting and fishing experiences to wounded veterans.
The Washington Post also reported that "Worse yet, according to retired Army Col. Nickey Knighton's detailed 'customer care' report to Delta, efforts by several fellow vets to shift Brown from coach to a first class seat offered by another flyer, were rebuffed by the crew. Flight attendants insisted no one could move through the cabin because the doors were being closed for takeoff," she wrote. Click here for full article http://www.washingtonpost.com/blogs/she-the-people/wp/2012/12/13/marine-double-amputee-gets-help-from-fellow-vets-angered-by-delta-airlines-treatment/
A HERO Foundation board member Bricken McKenzie, IV stated, "To say I'm disappointed and angry would be an understatement. These men and women have come home from a horrific situation, and to be treated with such disrespect is just indefensible." McKenzie continued, "These young guys are coming back and dealing with tremendous physical and emotional pain. And when you see what just one day out hunting in the woods can do for them, you wish you had the time and resources to get them out there every weekend."
America's Heroes Enjoying Recreation Outdoors (A HERO) Foundation's purpose is to serve America's wounded veterans by providing fellowship and mentoring opportunities through outdoor recreational activities. A HERO enables veterans to begin the healing process, so they can focus on their future and reconcile the traumatic events of their past in a healthy and constructive environment.
"Our goal is to serve as many wounded veterans as possible and offer them the healing opportunity that comes from time spent in the outdoors with fellow veterans," said A HERO Managing Director Lee Stuckey.
When asked about the incident on Sunday, marine veteran Christian Brown stated, "It's sad to have the very people I lost my legs for in combat mistreat me in such a horrific manner. Regardless of how they treated me, I would still go back and fight for them again if I had the opportunity."
Brown is scheduled to return to Alabama in January for another A HERO hunting trip with fellow veterans. The A HERO Foundation plans to contact Delta to request that the airline honor Brown in a more dignified manner, if he chooses to fly with the airline again.
"A HERO is dedicated to showing veterans that their sacrifices are appreciated and are not forgotten," stated McKenzie. "My only hope is that this situation with Delta will help shed some light on their needs, and motivate others to support our efforts."
A HERO welcomes veterans into a community willing to donate the time, outdoor recreational equipment, and natural and financial resources necessary to support a variety of outdoor activities. For many veterans, the most difficult and deadly battles are fought alone, after the guns have fallen silent. Tragically, 18 veterans commit suicide every day, or 6,500 deaths per year. Over 50,000 veterans have taken their own lives since 2003. To learn more or donate to A HERO, visit http://www.AHEROusa.com