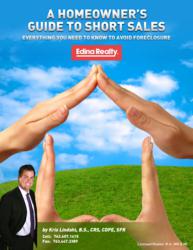 I recently met with a Freddie Mac associate to get specific details on how they run their short sale process and I wanted to pass that potential home buyers and sellers
Blaine, MN (PRWEB) December 18, 2012
The experienced Edina Realty Agent held a short sale seminar covering the Freddie Mac short sale process yesterday afternoon. "I recently met with a Freddie Mac associate to get specific details on how they run their short sale process and I wanted to pass that potential home buyers and sellers,"Kris Lindahl says of the seminar.
"The way that different banks and lenders handle the short sale process can be drastically different so it's important to find out which banks work in what ways,"Kris Lindahl says, and continues,"The Freddie Mac process is a simple one. The process will start with find an experienced real estate agent and checking your eligibility. Once you have done that then you move on to market your home to a buyer and once that buyer is found you'll need to get a purchase agreement. From there negotiations will go back and forth between the buyer and the lender until an agreement is met."
The seminar yesterday afternoon was packed to full capacity and Kris Lindahl expects to schedule at least one per day for the next couple of weeks. "Either I or one of my trusted team members will be leading these seminars,"Kris Lindahl says,"We've decided to get specific to the needs of homeowners when it comes to covering several different banks and lenders and presenting this information in cities in and around the Twin Cities area."
The Kris Lindahl team consists of several hard working, full-time Edina Realty realtors that hold designations like Certified Distressed Property Experts, Short Sale & Foreclosure Resources, and Council of Residential Specialists.
Call Kris Lindahl and the Kris Lindahl Team at (763) 607-1415 for more information. Visit the Minnesota Short Sale Calculator to check your eligibility. Download the eBook "A Homeowner's Guide To Short Sales" and visit the Kris Lindahl real estate website.