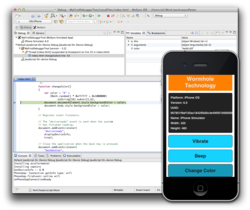 "Working to release our latest updates has been a joyful experience. We are confident in the knowledge that we have great and compliant tools and features - giving all our developers and customers even more flexibility, stability and freedom of choice."
Stockholm, Sweden (PRWEB) December 19, 2012
MoSync now releases extended and new functionalities with MoSync SDK 3.2 (available for download at mosync.com/sdk). As part of MoSync's commitment to bring fast and cost-efficient development and distribution for §mobile applications over a broad range of devices, platforms and distribution channels. The new MoSync product release is further evidence of this assignment. Updates in MoSync SDK 3.2 includes JavaScript on-device debugging capabilities, support for the Android 4.x platform - both on devices and on simulators – and NativeUI improvements. The release comes with heaps of new tutorials to help any mobile developer get the most out of their code and creativity.
"Working to release our latest updates has been a joyful experience. We are working closely with our developer community and are confident in the knowledge that we have great and compliant tools and features - giving all our developers and customers even more flexibility, stability and freedom of choice," says Dr Alex Jonsson, Co-founder and CTO at MoSync.
Key features/updates at a glance:
On-device debug JavaScript directly
The MoSync IDE now features a fully-featured debugger for JavaScript code. Any developer can now set breakpoints in the code, install and run the application package on a device, and then see the code as it executes in the MoSync IDE. The new debugger will help to cut HTML5/JavaScript development time, ensure the robustness of the code, and get the app to market faster. User's guide.
Android 4.x
The entire Android runtime is updated, thereby seriously improving conformity with the latest Android version available on the market. That means the existing code should now run without problem on these platforms.
Improved NativeUI ListView Widget
MoSyncs ListView widget now supports alphabetical and segmented lists, sections, and new properties.
There is also many other improvements to the native interface widgets, including fixing nested layouts on iOS and improving screen sliding. Many performance tweeks under the hood are also done, making MoSync's NativeUI functionality faster than ever.
About MoSync
MoSync is a leading provider of free, open source based mobile development tools for software developers making their innovations and work available efficiently on all major mobile platforms. MoSync was founded in Sweden and has been a pioneer in the industry for a number of years. Recognized in the Vision Mobile Report "Cross-Platform Developer Tools 2012" (published February 2012) as one of the top ten tool vendors and overall top one in terms of developer satisfaction ratings, MoSync's open source Software Development Kit (SDK) and MoSync Reload enable mobile and web developers to build and compile apps on all major mobile platforms with one single code base, using standard C/C++ or HTML5/JavaScript, or a combination of both to create hybrid apps. For more information, please visit http://www.mosync.com