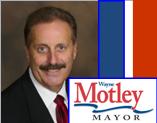 I will work hard to bring business, jobs and housing back to downtown. We can fill the streets with people and commerce through smart redevelopment
Waukegan, Illinois (PRWEB) December 18, 2012
Wayne Motley has taken big step forward in his run to become the next Mayor of Waukegan, Illinois.
A highly regarded Parks District Board member for 18 years, credited with achieving success in bringing a number of sports and recreation projects to improve the quality of life for citizens of Waukegan over the years, has announced that he will be stepping down from the Parks District Board so that he can become the full-time Mayor if he wins the February 26, 2013 primary.
"My name will only appear on the ballot for the mayoral position," Motley said, adding that he decided "I could not continue to serve two masters" by holding both offices. He also announced his resignation from the Waukegan Housing Authority board of directors.
Motley has served the public for 38 years, and is currently the City Clerk, a position he was first elected to 12 years ago. He is also a retired police sergeant, having served in the Waukegan police department for 26 years.
"Waukegan deserves a Mayor dedicated to the city, not one willing to walk away from the tough discussions or take this on part-time," said Motley. "I will do what it takes and fight hard to make this the best place for families, business and restore Waukegan pride in the city I love, and the city that we all call home."
"I will work hard to bring business, jobs and housing back to downtown," added Motley. "We can fill the streets with people and commerce through smart redevelopment of the waterfront, tax incentives that lure business, rehabbing and reselling foreclosed homes and I will fight hard to put the Casino right where it belongs to keep the building permit, hotel-motel and food- beverage tax dollars where they belong—in downtown Waukegan."
In addition to his commitment to be full-time in contrast to his opponent the state senator who is seeking the office while keeping a day job, Motley has an aggressive vision for what needs to be done.
"Waukegan has invested in redeveloping the historic Genesee Theater, one of the most beautiful harbors and potentially profitably waterways in the region.: said Motley. "It's time to unlock the potential and the value to better benefit the community, businesses and the city's bottom-line."
MORE ABOUT WAYNE MOTLEY
For 38 years he has dedicated himself to protecting and managing his hometown, and he has what it takes and what Waukegan needs to be better, stronger, more vibrant and more wonderful for all of us who call it home.
Wayne and his wife Carol raised seven children who have grown into successful adults here in Waukegan, and today all but one still live here in town, including ten of his 14 grandchildren.
Wayne has served as City Clerk for 12 years, He has served 18 years on the Park District Board, and 9 years on the Housing Authority, most recently as chairman. He retired as a Waukegan Police Sergeant in 2001, a department he served for 26 years in a wide range of operational and leadership roles, including:

Assistant Commander of the Waukegan Police Major Crime Scene Unit – 1995-2001
Member of the Waukegan Police S.W.A.T. Unit – 1992-2001
Member of the Waukegan Police Major Accident Investigation Unit – 1996-2001
Certified Conflict Resolution Instructor and Trainer for the Waukegan Community Partnership Conflict Resolution Task Force
Established the Waukegan Police Officer Friendly Program for Elementary Schools
Education Info:
Attended University of Illinois at Urbana-Champaign
Graduate of the Chicago Police Department Academy
Additional continuing education and certified course instruction from The College of Lake County, The Multi-Regional Institute, Northwestern University and the University of Illinois.
His facebook page can be found at http://www.facebook.com/motleyformayor