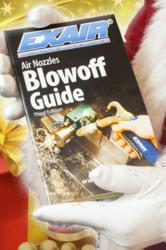 Any company's greatest asset is, of course, its employees... Protecting workers has to be the highest priority...
Cincinnati, OH (PRWEB) December 19, 2012
Any company's greatest asset is, of course, its employees. A production line may contain millions of dollars in machinery but, when employees are prevented from doing their jobs, that machinery might as well be a pile of scrap metal. Protecting workers has to be the highest priority. The off-the-shelf air guns and nozzles that are typically used in a factory could harm workers by producing ear-damaging noise or by creating the possibility of dangerous dead end pressure build-up.
High noise levels are a common problem for many plants and compressed air noise is a major contributing factor. When operated at a typical line pressure of 80 PSIG (5.5 BAR) a standard blowoff can produce noise levels as high as 100 dBA, which is as loud as a jet flying over at 1000 feet! In part, OSHA Standard 29 CFR – 1910.95 (a) states that permanent hearing damage can occur after an 8 hour exposure to any noise over 90 dBA. EXAIR's Super Air Nozzles are engineered to provide the same strong blowoff force but at a much lower 74 dBA, which is only as loud as normal radio or TV audio.
Additionally, if the outlet pressure of a compressed air line is higher than 30 PSIG (2 BAR) and a hand or other body part blocks that opening, it is possible for that person to have air enter their bloodstream through their skin, causing serious injury or death (OSHA standard CFR 1910.242 (b)). All of EXAIR's Air Nozzles are engineered to prevent that possibility.
For almost 30 years, EXAIR has produced a line of CE compliant Air Nozzles and Safety Air Guns that are engineered to provide both efficient and safe use during drying, cleaning, and cooling operations. We've taken all of that knowledge and experience and distilled it into a pocket-sized survival guide that will help avoid the dangers of unsafe compressed air practices and reveal the hidden traps of discount compressed air products. Our 24 page Blowoff Guide contains color photos, comparison guides, performance data, and OSHA safety information. Order a complimentary copy today and give your employees the gift of safety!