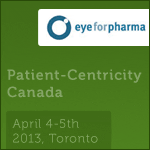 58% of [online health] searches result in conflicting information which poses a massive health risk for patients
London, UK (PRWEB UK) 19 December 2012
77% of online patient searches are for specific drug information and yet 58% of searches result in conflicting information, which poses a massive health risk for patients across Canada as internet usage increases.
The figures highlight the growing need in Canada for a joint approach to online communications, cross-company and in conjunction with governing authorities. The news comes courtesy of the Patient-Centric Communication Study, which was published earlier today.
Collaboration is key
The study, published by eyeforpharma and featuring information and opinions from leading thinkers in patient adherence, goes further in highlighting the importance of involving patient communities in future communication strategies. PAAB Commissioner, Ray Chepesiuk, participated in the study and says "Patient-disease groups that are getting stronger, they are getting digital messages to more people faster. The healthcare and the pharmaceutical industries have to wake up as these individuals are influencing stakeholders like Health Canada by showing up at their consultation meetings and on–screen methods and tell[ing] them that they should change the way they do things."
Patient Communication central at annual conference
The study comes ahead of eyeforpharma's Patient-Centric Communication summit in April 2013 in Toronto, Canada. The event comprises of a gathering of key opinion leaders, stakeholders, patient advocacy groups and senior figures from within the pharma industry.
Top of the agenda will be patient communication methods, including a detailed examination of "integrated healthcare" which for many is still the goal. A number of strategies are due to be discussed at the summit, and key milestones are to be shared among the attendees.
To read the Patient-Centric Communication Study in full visit the website: http://bit.ly/V53y28
# # #