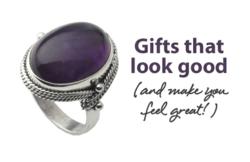 Fonthill, ON (PRWEB) December 19, 2012
Fair Trade means that the skilled artisans and producers who created the gifts were treated with dignity and respect. Women were empowered and children were educated, human rights were valued, working conditions were safe, and wages were fair. It's the perfect Valentines message. Jolica sells beautiful Fair Trade jewelry, scarves and leather products that were handcrafted in India, Indonesia, Nepal, Thailand, Peru and Chile. Jolica's product line is sold across Canada and the US by independent Gift Consultants, and on-line at http://www.jolica.com.
Fair Trade accessories, chocolates, flowers and clothing can be found on line, at home party events, and in independent shops. Look for a FTF (Fair Trade Federation), WFTO (World Fair Trade Organization), or Certified Fair Trade label to ensure that what you are buying is Fair Trade.
Jolica makes it possible for anyone, anywhere, to have their own Fair Trade jewelry and accessories business. Information about Jolica's business opportunities and its products can be found at http://www.jolica.com.
Jolica is a member of the Fair Trade Federation. (FTF), the Direct Selling Women's Alliance (DSWA), and the Direct Sales Association Canada (DSA Canada).
###
About Jolica:
Founded in 2005 by Darlene and Ted Loewen, Jolica is a privately owned direct sales company based in Fonthill, ON. Jolica's products are created by artisans in Chile, India, Indonesia, Nepal, Peru and Thailand and are purchased according to the principles of Fair Trade to ensure maximum benefit to the artisans. Jolica is a member of the Fair Trade Federation. Five percent of all sales go to the Jolica Foundation. http://www.jolica.com
Contact:
Ingrid Heinrichs Pauls
Public and Media Relations
(c) 905.330.9040
ingrid.heinrichspauls(at)jolica(dot)ca
http://www.jolica.com