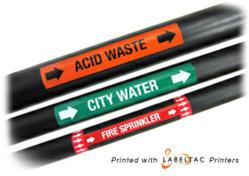 "I used the tape for marking our pipes throughout the facility and I can't believe how quick we were able to complete the job."
Lake Oswego, OR (PRWEB) December 27, 2012
Successful and aspiring industrial and manufacturing facilities know that safety is the number one priority to keep a safe environment in the workplace. Creative Safety Supply is a leading supplier of safety products and is now offering pipe tape to properly mark pipes throughout the facility. Pipe tape is perfect for 5s and lean safety programs due to the bright colors that visually draw attention to the pipes identification and the information will reduce time spent on trying to identify the pipe contents resulting in a more lean facility. Pipe tapes will provide professional results and are easy to use and affordable for any budget.
Pipe tape comes in a variety of sizes and colors. The tapes are chemical and UV resistant and will withstand any type of environment no matter how tough. They will not fade, scratch, smear or smudge. The outdoor rating is five to seven years. Pipe tape is not only for pipes but can also be used for marking containers and bottles filled with hazardous substance. Plant manager, Jack Mundt, commented "I used the tape for marking our pipes throughout the facility and I can't believe how quick we were able to complete the job."
Creative Safety Supply also offers complete packages for pipe marking that is designed to include everything that would be needed to start the process of labeling pipes in a facility. LabelTac 4 industrial printer is included in the package along with software, cables, ribbon, and colored labels needed to comply with OSHA pipe marking standards. By making labels in house on demand is cost effective and time saving. No waiting for them to show up in the mail or buying from a 3rd party outside source. Printing out labels is quick and will get the job done in a snap when printing out of MS Word, Open Office, or other popular programs.
For more information about pipe tape or other safety products, please visit http://www.creativesafetysupply.com or call toll-free (866)777-1360 to speak with a professional representative.