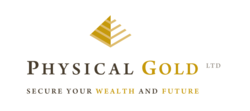 The Maple Leaf is one of the purest gold coins of regular issue in the world.
(PRWEB UK) 26 December 2012
Gold prices have quintupled in the past decade as a growing number of investors turn to the precious metal as a safe hedge against inflation. With more quantitative easing expected from banks in 2013 to help battle the economic downturn, gold investment is expected to continue its winning streak.
As more people consider gold coins as a form of investment, Physical Gold releases a guide to some its gold bullion coins:

UK Britannia – Issued since 1987 by the Royal Mint, the Britannia is the British Bullion once ounce coin. It has been issued every year to date and is heading towards becoming Europe's premier modern coin. Popular with collectors, dealers and investors; it is one of the world's most liquid coins. It had a fineness of 22 Karats until it's 2013 edition, when the Royal Mint increased it's purity to 24 Karats to attract more global investors. It has a face value of £100 and is considered legal tender in Britain, therefore it is not subject to capital gains tax.
Krugerrand – The South African Krugerrand was the first gold coin to contain one ounce of fine gold, thus fuelling the private ownership and trade of gold. By 1980, it accounted for 90% of the gold market. The 22 karat bullion coin is believed to be most widely owned bullion coin on the market, providing unrivalled liquidity.
American Eagle – The American Eagle is the legal tender gold bullion coin of the United States and is the only gold coin which has its quality and purity guaranteed by the US Government. US law dictates that the gold contained within the coin must come from sources in America. It was first issued in 1986 and has a face value of $50USD.
Australian Nugget – First introduced in 1986, the Australian Nugget is the legal tender 24 karat gold coin of Australia and has a face value of $100AUD. It is one of only a few bullion coin to change its' design every year.
Canadian Maple Leaf – The Maple Leaf is one of the purest gold coins of regular issue in the world. Since 1983, The Maple Leaf has had a purity of 99.99% with almost no alloy at all. The Royal Canadian Mint was the first to produce 24 karat coins and set the standard for quality for all other bullion coins. It has a face value of $50CAD.
Physical Gold Ltd is a leading UK gold dealer, helping investors diversify their portfolios with innovative investment solutions. Renowned for their ground breaking products such as the Sipp gold and Gold Accumulation Account, the firm specialise in providing customers with tailored assistance in sourcing the best gold for their personal requirements. Based in London, the team are BNTA accredited and have an unrivalled knowledge of the gold market as well as an exceptional understanding of the general financial markets.