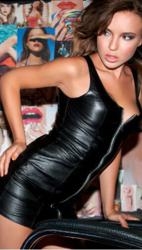 Leather as Fashion Icon
Las Vegas, NV (PRWEB) December 20, 2012
The new collection includes soft and supple leather corsets, teddies, bras, garterbelts, panties, dresses, skirts and pants. Today leather is crafted into eye catching pieces and playfully combined with other fabrics. The garments are manufactured by Allure Leather Lingerie. The company is well known for manufacturing high quality leather garments.
Leather has become extremely popular and has lost it's bad girl image. A knee-length leather pencil skirt, for example, looks elegant and ladylike. Freed from the biker image, leather clothing boast a new found suppleness and give versatility to a women's wardrobe. Nowadays leather is treated more like a fabric than ever before, and it is feminine, practical and wearable by all women.
Leather lingerie looks flattering and erotic on any body type. Feeling USA offers a variety of selections. Some of the combinations are: leather and lace, leather and mesh, leather and fishnet, leather and brocade, as well as leather in various colors. They carry many styles and variations to choose from, so it should be easy to find the look that suits a wearers personalty. It is important to remember that leather is a very versatile piece of fabric that ages well over time. It will adapt to a body's curves and fit like a second skin.
According to Silvie Niggli, the buyer at Feeling USA, leather corsets, bustier tops, dresses, skirts, shorts and pants are just as popular as leather undergarments. Leather has become increasingly stylish and is on the market in a variety of colors, not just in basic black. Leather has a matte finish and feel to it, that makes every clothing item look sophisticated, expensive and unique. It also looks fabulous paired with other fabrics. A leather skirt, for example, looks great combined with a silk blouse or a wool sweater. The styles are endless when it comes to leather clothing, it is easy to mix and match a wealth of different pieces to create the perfect look.
FeelingUSA.com is a large lingerie store on the web, and retails lingerie, corsets, sexy clothing, costumes, bikinis, stockings, bodysuits, and high heel shoes, also specializing in plus size lingerie, as well as leather, vinyl, and latex. The company was founded in 1996 and carries close to 6'000 items in the online lingerie store. FeelingUSA provides secure e-commerce, accepts all major credit cards, and also offers Google and Paypal checkout. Worldwide shipping, free within the US, great prices, lingerie on sale, discounts, free panty, and price guarantee. The team at FeelingUSA Lingerie loves to assist and can help choosing the correct size, shipping methods, and any other question about buying lingerie. FeelingUSA makes it easy to bring sexy back into every women's life.
Happy Holidays and a Prosperous New Year