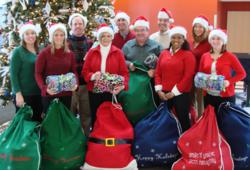 The blankets have tags that say, 'Made with love by High Hotels,' and they really are.
Lancaster, Pa. (PRWEB) December 18, 2012
A group of managers representing High Hotels Ltd.'s 12 hotel properties recently delivered 100 handmade fleece blankets for patients of the Penn State Hershey Children's Hospital in Hershey, Pa.
The fleece blankets, made by employees of High Hotels, were placed under the Christmas tree to be hand selected by patients.
"Each blanket goes to a patient and stays with that patient when he or she goes home," said Michael Fruin, president of High Hotels. "The blankets have tags that say, 'Made with love by High Hotels,' and they really are," Fruin said.
Fruin plans to expand the holiday program at High Hotels next year, involving more employees, raising more funds ahead of time to buy more blanket kits, and providing more of the cozy fleece creations intended to brighten the stays of even more young patients.
"We're always looking for community service projects that align well with our values, and this project is a good fit because it's so meaningful for our team," Fruin added. "And their new facility really caught our attention in terms of the size, scope, and commitment to the region."
About High Hotels Ltd.
High Hotels Ltd., an affiliate of High Real Estate Group LLC, owns and operates twelve superior quality hotels in York, Lancaster (2), Harrisburg (2), Reading, and Wilkes-Barre, Pennsylvania; Middletown, New York (2); Annapolis and Lexington Park, Maryland; and Ewing, New Jersey. The organization is recognized as a leader and has received many awards for excellent customer service. For more information about High Hotels, Ltd., call 717-293-4446 or visit http://www.HighHotels.com and http://www.HighRealEstateGroup.com.