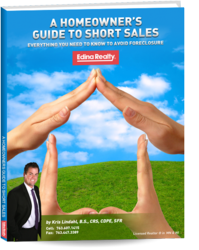 Kris Lindahl is a top Maple Grove real estate agent
Maple Grove, MN (PRWEB) December 18, 2012
An experienced member of the Kris Lindahl Real Estate Team of Edina Realty held a short sale resources meeting in Maple Grove, MN on Sunday afternoon. "Kris Lindahl is a top Maple Grove real estate agent,"said a trusted member of the Kris Lindahl Team."He was the number one Edina Realty short sale agent in 2011 and is on his way to earning the same title for 2012."
"Kris is an honest realtor,"the team member said at the meeting, and continued,"He understands that it can be confusing finding the right agent. Kris provides all of his short sale acceptance letters to anyone wanting see his record and is willing to show potential clients a reference for every short sale that he has closed."
"Kris Lindahl believes that having the best available tools at your fingertips is the best way to buy or sell a home, and with him as your agent he guarantees that will be the case,"the trusted team members said, and continued,"He has access to exclusive software that gives him the edge over other agents across the country."
The Kris Lindahl Team consists of several hard working, full-time Edina Realty realtors that all hold designations like Certified Distressed Property Experts, Short Sale & Foreclosure Resources, and Council of Residential Specialists.
Call Kris Lindahl and the Kris Lindahl Team at (763) 607-1415 for more information. Visit the Minnesota Short Sale Calculator to check eligibility and the Kris Lindahl real estate website. Download the eBook published by Kris Lindahl titled "A Homeowner's Guide To Short Sales."