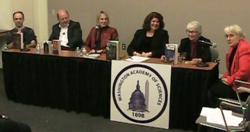 One of the most interesting revelations shared by all five panelists was that none conducts a great deal of scientific research--just enough to make their writing convincing.
Washington, DC (PRWEB) December 19, 2012
On December 12, 2012, five authors of mysteries, thrillers, and horror novels gathered at the Washington Academy of Sciences in Washington, D.C. to discuss their craft and their use of science as part of the annual Science Is Murder panel.
Included amongst the panelists were New York Times bestselling author John Gilstrap, author of Damage Control; Maddi Davidson, author of Denial of Service; Alexandra Hamlet, author of Right Guard; Peg Kay, author of Me Tarzan You Dead; and Harrison Demchick, author of The Listeners, which was released on Monday, December 17.
"It was a terrific panel," says Demchick, from nearby Baltimore, MD. "I was honored to be invited."
The panel was hosted by Kathy Harig, owner of the Mystery Loves Company bookstore, who called The Listeners "amazing and engaging."
While this was Demchick's first panel, the praise is not unfamiliar. In Booklist, Bram Stoker Award finalist Daniel Kraus compared The Listeners favorably to post-apocalyptic/zombie novel standards Zone One, by Colson Whitehead, and World War Z, by Max Brooks. "[With] evocative nonlinear prose," wrote Kraus, "Demchick's depth of focus is both confident and impressive."
Other horror authorities have reacted similarly. Bram Stoker Award-winner Benjamin Kane Ethridge said, "With stylistic and emotional flourishes largely missing from the post-apocalyptic subgenre, this is a novel that really shouldn't be missed!"
And Jeffrey Reddick, creator of the Final Destination series and screenwriter of Day of the Dead, called The Listeners "a terrifying allegory of the times we live in."
The "Science Is Murder" panel, originally established in 2009, was a success in its own right, earning the attention of the BBC. Demchick, as well as the other panelists and Washington Academy of Sciences personnel, participated in a BBC interview.
"It's not something I was expecting, no," says Demchick. "But I'm glad to see the panel getting that kind of attention. It deserves it. It's great to see these different disciplines—literature and science—coming together for this sort of event."
Demchick admits to being surprised to have been invited to the panel. In The Listeners, he explains, science is a peripheral force.
"My characters aren't scientists. They aren't the geniuses who save the world," says Demchick. "They're the people on the street trying to make sense of what they're experiencing—the plague, the infected people, and the world that has resulted. If science is murder, then so is ignorance."
In the course of the panel, which lasted more than 70 minutes, Demchick and the other panelists fielded questions from Harig, and then from an eager audience. One of the most interesting revelations shared by all five panelists was that none conducts a great deal of scientific research—just enough to make their writing convincing.
"Everybody was fantastic," says Demchick. "It was my first panel, and I hope it's the first of many."
The Listeners is available at Amazon, Barnes & Noble, and wherever books are sold.
The Washington Academy of Sciences, whose founders include Alexander Graham Bell and Samuel Langley, was created with the purpose of encouraging the advance of science.
Bancroft Press has been a leading independent general interest publisher for the past 20 years.