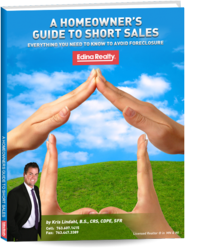 The Merrill Lynch process has its distinctions, much like a lot of other lenders have specific points to their short sale processes that set themselves apart
Blaine, MN (PRWEB) December 18, 2012
Kris Lindahl and the Kris Lindahl Team have begun a campaign to cover the short sale processes of several different banks and lenders in the coming weeks at seminars in the Twin Cites area. "The Merrill Lynch process has its distinctions, much like a lot of other lenders have specific points to their short sale processes that set themselves apart,"Kris Lindahl says, and continues,"This is something that needs to be covered so I will be holding a seminar later this week in Blaine, MN."
"It's important to have all of the information you can before you delve into the short sale process but time is also of the essence,"Kris Lindahl says, and continues,"With the right short sale agent and the right tools you can make it a lot easier on yourself, and with me as your agent I can guarantee that will be the case."
"These seminars have proven to be a great resource for residents of the Twin Cities area, and I like to to get the word out about them so as many people as possible get the chance to attend,"Kris Lindahl said of the seminars.
Call Kris Lindahl and the Kris Lindahl team at (763) 607-1415 for more information. Visit the Minnesota Short Sale Calculator to check eligibility and the Kris Lindahl real estate website. Download the complimentary eBook "A Homeowner's Guide To Short Sales."