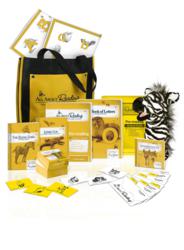 This program helps children effortlessly learn essential pre-reading skills.
Eagle River, WI (PRWEB) December 20, 2012
All About Learning Press, Inc. is pleased to announce that two of the read-aloud books from its popular All About Reading Pre-reading program are medal winners in the 2012 Moonbeam Children's Book Awards. According to IndependentPublisher.com, the annual Moonbeam Children's Book Awards "are intended to bring increased recognition to exemplary children's books and their creators, and to celebrate children's books and life-long reading."
Nearly one thousand books were entered in the 2012 competition, with prizes awarded in 39 categories. Lizard Lou: a Collection of Rhymes Old and New by Marie Rippel and Renée LaTulippe was awarded the Silver medal in the Children's Poetry category, while Zigzag Zebra: a Rhyming Alphabet by Marie Rippel and Donna Goeddaeus won a Bronze medal in the Alphabet/Counting Book category.
The winners of the Moonbeam Children's Book Awards were selected by a panel of librarians, educators, and book experts, and the 2012 winners were recognized at an awards ceremony held during the 3rd Annual Traverse City Children's Book Festival in Traverse City, Michigan on November 10, 2012.
The All About Reading Pre-reading program was created by author and curriculum developer Marie Rippel and is based on the Orton-Gillingham approach. Designed for preschool students, the program utilizes games, crafts, and storytime read-alouds to help children effortlessly learn essential pre-reading skills. The Lizard Lou and Zigzag Zebra readers are core components of the program, and students cultivate five very important pre-reading skills: Print Awareness, Phonological Awareness, Letter Knowledge, Listening Comprehension, and Motivation to Read. The "open and go" lesson plans are lightly scripted, so no previous teaching experience is necessary, and lessons require just 15 to 20 minutes per day.
For more information about the All About Reading program, visit http://www.allaboutlearningpress.com/all-about-reading/.