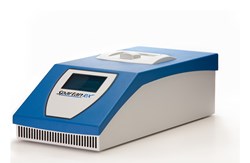 We are excited to work with Mayo Clinic on this landmark clinical trial.
- Paul Lem, M.D., CEO of Spartan Bioscience
Ottawa, Ontario (PRWEB) December 20, 2012
Spartan Bioscience today announced the start of a 5,945-patient study of personalized medicine for cardiac stent patients. The study is sponsored by the Center for Individualized Medicine at Mayo Clinic and is entitled "Tailored Antiplatelet Initiation to Lessen Outcomes due to Clopidogrel Resistance after Percutaneous Coronary Intervention (TAILOR-PCI)."
This clinical trial will evaluate whether genotyping of cardiac stent patients at the time of angioplasty can help improve patient outcomes by informing providers about drug selection of either Brilinta® (ticagrelor) or Plavix® (clopidogrel). These antiplatelet drugs are prescribed after surgery to reduce clotting complications, such as heart attacks, strokes, and cardiovascular deaths. The drugs are thought to work differently in patients with specific variations in the CYP2C19 gene, and the Spartan RX CYP2C19 rapid DNA testing system will be used to identify these variations in some patients of the TAILOR-PCI study. The study will enroll patients over a 22-month period at 9 hospitals in Canada and the United States.
The principal investigator of the TAILOR-PCI study is Naveen Pereira, M.D., a Mayo Clinic cardiologist. Chiranjit Rihal, M.D., chairman of the Division of Cardiovascular Diseases at Mayo Clinic in Rochester, Minnesota, serves as chairman of the TAILOR-PCI steering committee. The Mayo Clinic sites are Rochester; Jacksonville, Florida; Phoenix, Arizona; and the Mayo Clinic Health Systems in La Crosse, Wisconsin; and Mankato, Minnesota. Canadian sites participating in this study are St. Michael's Hospital, Toronto General Hospital, Sunnybrook Hospital, and the University of Ottawa Heart Institute.
"We are excited to work with Mayo Clinic on this landmark clinical trial," said Paul Lem, M.D., CEO of Spartan Bioscience. "Rapid DNA testing means doctors and patients do not have to wait days or weeks for results from a central lab."
About CYP2C19
The CYP2C19 enzyme metabolizes approximately 15 percent of all prescribed drugs, including important drug classes such as anti-platelet therapies, beta blockers, anti-depressants, proton pump inhibitors, and anti-epileptics.(1) About 30 percent of Caucasians, 40 percent of Africans, and more than 50 percent of Asians and Indians carry CYP2C19 gene variants that reduce response to drugs metabolized by CYP2C19.(2,3,4,5) The CYP2C19*2 and *3 variants account for the majority of reduced drug metabolism. The CYP2C19*17 variant is associated with increased drug metabolism.
About Spartan Bioscience
Spartan Bioscience is the leader in on-demand DNA testing. Spartan is bringing complete sample-to-result DNA testing systems to medicine. Spartan's technology fully integrates DNA collection, extraction and analysis, with an intuitive interface that is easy to operate. For the first time, healthcare providers and their patients can get DNA results on demand.For more information, please visit our website at: http://www.spartanbio.com.
The Spartan logo is a registered trademark of Spartan Bioscience Inc.
Brilinta is a registered trademark of AstraZeneca.
Plavix is a registered trademark of Bristol-Myers Squibb/Sanofi Pharmaceuticals.
1. dbSNP Short Genetic Variations. Reference SNP (refSNP) Cluster Report: rs12248560.
2. Damani SB, Topol EJ. (2010). J Am Coll Cardiol. 56:109–11.
3. Chen M et al. (2011). Atherosclerosis. 220(1):168–71.
4. Oh IY et al. (2012). Heart. 98(2):139–44.
5. Jose R et al. (2004). Fundamental & Clinical Pharmacology. 19(1): 101–105.