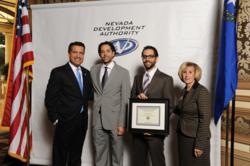 In recognition of innovation and entrepreneurship which has helped drive economic growth and job creation in Nevada
Las Vegas, Nevada (PRWEB) December 19, 2012
Storkie Express Inc., a leading online source for custom-printed invitations and cards, has been recognized by the State of Nevada as a 2011-2012 newly relocated business.
The Certificate of Recognition was presented December 7, 2012 to David Gudai and Jonathan Gudai of Storkie Express Inc. "in recognition of innovation and entrepreneurship which has helped drive economic growth and job creation in Nevada." Governor Brian Sandoval and Commissioner Susan Brager presented the certificate and met with David and Jonathan at the 2012 Nevada Development Authority Annual Luncheon in the Bellagio Hotel.
Storkie, based in Plantation, Florida, opened the Las Vegas office in November of 2011. The Nevada Development Authority assisted Storkie with its expansion into Southern Nevada.
David Gudai, the CMO of Storkie, said, "We are honored to be recognized by Governor Sandoval and the State of Nevada. Storkie is proud to bring economic diversity to Nevada, while facilitating our commitment to transforming the customer experience for custom-printed invitations and cards for shoppers worldwide. This recognition validates the beginning of our strategic development plans in Nevada, as the Las Vegas Storkie team spearheads innovation within our industry."
For more information, visit Storkie at http://www.storkie.com.
About Storkie Express
Storkie Express is an online-based invitation company providing customers with quality, affordable custom-printed invitations, announcements and cards since 1990. Storkie has been an industry innovation leader unveiling exclusive custom-design technology, and transforming the customer experience for stationery shopping. At Storkie.com, customers can easily design and order unique personalized invitations at the best prices and fastest turnaround time offered in the industry.