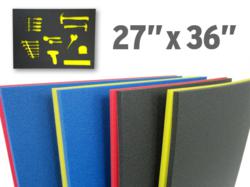 "The foam kits were easy to customize for our tools and supplies. No more lost tools in our shop!"
Lake Oswego, OR (PRWEB) December 28, 2012
A successful business requires a lean facility and Creative Safety Supply is now offering another product to help with organization and reduce waste. Thick tool foam organizers can be customized to fit any size drawer, toolbox, or can be placed on the wall and is the perfect solution for the visual differentiation of tools and small things around the work area. The custom thick tool foam kit comes in 2 pieces of durable, closed cell foam in high-contrast colors. Cutting tool shapes into the top, primary layer, then back with high contrast colored foam backing will easily identify missing tools.
The custom foam dividers is the new way of organizing tools to give each instrument a place in the tool box or drawer. No more wasting time looking for lost tools or wasting money by replacing lost tools. The foam tool box organizer is a great solution for stowing away tools and instruments after they have been used, saving time for future work. The use of colors to visually identify tools and small items around the work area is part of visual management of the 5S safety program. Also by organizing a tool box or drawer with the foam will create a more lean facility by reducing wasted time trying to find a tool and wasted money by replacing lost tools. An auto mechanic commented, "The foam kits were easy to customize for our tools and supplies. No more lost tools in our shop!"
The benefits a business can expect to receive by using foam organizers are raising awareness of tool accountability, management, safety, and security. Organized tools are convenient, efficient, and placed ready for the job increasing productivity. 5S programs can be complemented through visual management and organization of tools. Achieve compliance with FOD (tool foreign object damage) and FME (foreign material exclusion) prevention programs.
For more information about Foam Organizers, please visit http://www.creativesafetysupply.com or call toll-free (866)777-1360 to speak with a professional representative who can answer all your questions.