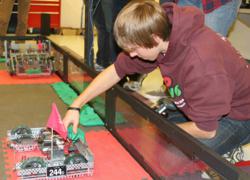 Grandville, MI (PRWEB) December 19, 2012
Twenty-four teams from West Michigan schools have come together to form the state's first VEX robotics league. In late November, the Grandville High School RoboDawgs hosted the first league play event for the newly formed West Michigan VEX League. Teams from Grandville, Belding, and Grand Rapids Schools competed at this event which was held at the Grandville Robotics & Engineering Center, located on the south campus of Grandville High School. Chuck Parks, president of Grandville-based Custom Electronics and manager of the West Michigan VEX League, said the kickoff of this new League "marks a step-change in the way robotics integrate into the education of high school and middle school students."
The West Michigan VEX League has two competition dates each week, culminating in a league championship playoff to be held Saturday, January 5 in Grandville. This league-play format, operating much like any other varsity sport, features regular weekly play between area schools. "This really changes the game," says Chuck Parks. "Unlike any other robotic competition, these kids get to compete against other schools every week – and then go home and upgrade their robot's hardware and programming. This competition format supports a real-life model for continuous improvement."
The West Michigan VEX League covers an area reaching from Ionia to Holland, and from Dowagiac to Traverse City. More than 20 teams from public and charter schools have joined the League for this first year.
The Grandville High School RoboDawgs are excited to be organizers of this new league. Grandville Public Schools has been a leader in educational robotics since forming its first competitive team in 1998. With the opening of its Robotics & Engineering Center this fall, the school has dramatically increased its efforts to expand the ways its students are exposed to and learn about science and technology. Ron Caniff, Superintendent of Grandville Public Schools, notes that "this robotics program, and the new robotics league, are shining examples of things that our public schools are doing to excite and educate our students in the science and technology areas."
VEX Robotics is the fastest growing robotics competition in the world for middle school and high school students. Sponsored by the Robotics Competition and Education Foundation, VEX releases a different challenge each spring. Over the following year, more than 5,000 teams around the world build robots and compete. This year's competition, called "Sack Attack," pits two alliances made up of three teams each against each other on the VEX playing field. Teams compete to collect large beanbags and place them in elevated scoring troughs and bins. Not only can opposing alliance robots attempt to place more beanbags in their scoring areas, this year's game also allows alliances to block opponents' robots from scoring - and even to remove the beanbags from their opponents' scoring areas! Full information on this year's game can be found at http://www.vexforum.com/wiki/index.php/Sack_Attack
*************************************************************************************************
Grandville Public Schools has been a leader in educational robotics for more than 10 years. Beginning with one high school robotics team in 1998, the district's program has now grown to include more than 30 teams. More than 500 students, from fourth through twelfth grades, participate on Grandville robotics teams, designing, building, and programming robotics for competitions around the world. Grandville has one of largest Lego League programs in the country, with the district fielding 18 teams this year. These students go on to compete in the district's VEX Robotics program at the middle school level, as well as the FIRST Robotics competition and the Great American River Race at the high school level. The Grandville Academic Team Boosters provide financial, technical, and coaching support for the Grandville robotics teams and other academic teams in West Michigan. Program sponsors include CISCO, Steelcase, Gordon Food Service, Custom Electronic Products, and Hepfer & Associates.