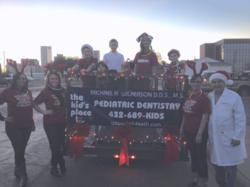 Midland, TX (PRWEB) December 20, 2012
The Kids Place, a pediatric dental practice in Midland, Texas, announced that one of their pediatric dentists, Dr. Keith Wilkerson recently participated in the city's third annual Christmas parade, "A Classic Christmas!", which was enjoyed by over 10,000 spectators. Dr. Wilkerson, along with the staff of The Kids Place and several patients, joined 73 other entries, which included floats, fire engines, motor bike groups and more.
To ring in the holidays, The Kids Place also hosted a shower on December 13, 2012 to benefit Safe Place, which provides emergency shelter, personal and legal advocacy, individual counseling and support groups for families affected by domestic violence. The dental practice collected toiletries, toys, socks, clothes, shoes and other items to donate to the organization for the holidays.
"We really had a great time at the Christmas parade," said Dr. Wilkerson. "It was great to see so many of our patients celebrating the holidays. We hope our float was also a reminder that it may be time for your child's dental checkup!"
The Kids Place provides a comprehensive array of pediatric dental services, including cavity risk assessment, early orthodontics, preventative dentistry, sedation dentistry and more. To make excellent dental care even more affordable for families of all sizes, The Kids Place has ongoing discounts and specials, which are listed on their website. Children can receive a free cavity risk assessment with an initial examination, a free pre-orthodontic screening with an initial examination, a 10% discount on initial cleaning, exam and x-rays, and several other discounts. For complete information about all The Kids Place pediatric dental services, visit their website or call (432) 689-5437 to schedule an appointment.
About the company:
The Kids Place Dental's practice strives to make children's dentistry a fun and rewarding experience. There is no doubt that effective home care, proper diet and correct treatment are important for your child's optimum dental health. The key to a beautiful smile all starts here! For more information, please visit their website at http://www.kid-teeth.com.