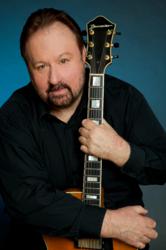 "The results are scintillating..." Bill Milkowski, JazzTimes, JazzIz, downbeat magazines contributor
Los Angeles, CA (PRWEB) December 19, 2012
Jazz guitarist and composer/arranger Doug MacDonald's 11th project, "Doug MacDonald's ReORGANized Quartet" (Blujazz), will be launched officially on both coasts as 2012 ends and 2013 begins.
On December 27, 2012, the quartet will perform at a CD release party in the Los Angeles area. Downbeat is 8 p.m., Upstairs at Vitello's, 4349 Tujunga Avenue, Studio City.
On January 11, 2013, a performance showcase/CD unveiling is set for 3-4:30 p.m. at the Hilton New York's Madison Room, as part of the Blujazz Label and Promotions Showcase for APAP/NYC 2013 Global Performing Arts Marketplace and Conference. The Hilton New York is at 1335 Avenue of the Americas at 54th St.
After APAP, MacDonald will appear the night of January 11 at The Garage Restaurant & Café, 99 7th Av. South, in the heart of Greenwich Village, and on January 13 at Dizzy's Diner in Brooklyn, 511 9th St.
The new CD is the culmination of almost a year's work by MacDonald as composer and leader, "realizing a goal to write more for this ensemble and get it out there by the end of 2012," he said. MacDonald announced the revival of the organ quartet in February 2012 with a first appearance at the LAX Jazz Club, referring to the revitalization of the original group as "re-organizing."
The group features the guitarist with Bobby Pierce on organ and vocals, Clarence Webb and Roger Neumann on tenor sax, and drummer/vocals Harold Acey, offering new material and tunes that were delivered by the earlier foursome in a 1997 recording named "Organizing."
Bill Milkowski, author and contributor to JazzTimes, JazzIz, downbeat magazines, wrote the liners for the 2012 organ quartet CD. His summary report of the music and performers: "And the results are scintillating." Milkowski kicks off the tune descriptions identifying the first, "G Jazz Blues," as "establishing the down home flavor of this inspired organ outing." Familiar tunes ("I Remember You," "Isn't It a Pity," "Yesterdays") alternate with originals, receiving high praise throughout Milkowski's descriptions.
"Doug MacDonald's ReORGANized Quartet" was recorded July 23, 2012 at Umbrella Media; recorded, mixed, mastered by Andy Waterman; Art Director/Packaging by Joseph Wensell; Photography by Mary Ann Halpin & Barry Mosely; Distribution & Promotion by Blujazz Productions. For more information about MacDonald, the website is http://www.dougmacdonald.net.
Public relations representation, Marty Morgan PR.