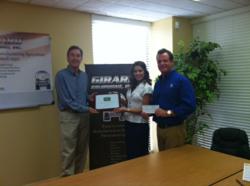 Doing something good for someone else is the best way to help when tragedies occur that bring us together as a nation.
Vero Beach, FL (PRWEB) December 19, 2012
In light of all the loss our country has felt these past several days, weeks, and months from across the nation; the most one can do is something good for someone else. On the whole, Girard Equipment is a steward of that very notion. Feeling the need to think globally but act locally, Girard Equipment has created the HETY Award (Helping Equip Today's Youth) to offer a hand up to those in the Indian River area who need it most.
Feed the Lambs Electrical 101, founded by Leon Foster, is an organization devoted to giving older kids the ability to learn a skill that can make them a viable asset to the trades. Working closely with Habitat for Humanity on the homes they construct for qualifying families, the teens in this program learn residential electrical basics through on- the-job experience.
Girard Equipment offers the HETY Award monthly along with a $300 gift to help promote and fund the chosen cause. To enter your organization or event please visit http://www.girardequip.com to complete the application and submit.