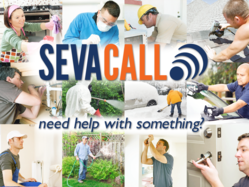 The Seva platform is the most interactive form of B2C advertising on the planet, says Andrew Bachman, a serial Bostonian Entrepreneur.
(PRWEB) December 19, 2012
Seva Call, a virtual concierge service designed to instantly connect consumers with service needs to high quality local service professionals, is launching its service in Boston. Seva Call finds the "right" professional by looking at a variety of factors including online ratings and reviews, social reputation and interaction, call analytics, and other forms of consumer and business feedback.
"Being one of the leading cities to do business in, we are very excited to launch Seva Call in Boston. This is a great time for us to launch, especially because this is when the citizens of Boston are preparing their homes for what usually is a brutal winter," says Seva Call founder and CEO Gurpreet Singh. "Our service will help cut out the hassle of researching and instantly connect consumers to high quality service professionals."
Seva Call is ready and waiting to connect consumers in Boston to more than 10,000 local professionals in 50 different industry categories, including plumbing, snow removal, computer repair, and even a handyman. Instead of consumers researching and calling companies, the citizens of Boston with service needs navigate to http://www.sevacall.com and enter their location, availability, and a brief description of their service need. Seva Call's algorithm then connects the consumer with up to three service professionals who can best help based on proximity, consumer ratings through sites such as Yelp and Google Reviews, and social interactions on sites like Facebook and Twitter.
Seva Call's service will be beneficial to the thousands of Boston businesses as well. When Seva Call receives a request that matches a consumer to a particular business, the service is relayed to those businesses as a phone call, email, or a text message. The businesses then have the opportunity to accept or reject the request based on factors such as availability, job details, and proximity.
In Boston's yellow pages, there are listings for over 2,000 for locksmith, snow removal, plumbing, and heating and cooling professionals. There is a mismatch for consumers who typically will call any number of these providers and be greeted with a voicemail, dead number, or even a schedule conflict. Beta users in Boston typically were matched with their first service professional in an average of 100 seconds.
"The Seva platform is the most interactive form of B2C advertising on the planet. I am beyond excited to watch it compete in the direct response space and capture a global user-base", says Andrew Bachman, a serial Bostonian Entrepreneur and investor in Seva Call.
We chose Boston as our 5th major city because of the hundreds of users requesting access during our beta there the last few months. Seva Call raised $1.3 million in Series-A funding from angel investors and venture capitalists. The Seva Call team has already launched their service in Washington D.C. Philadelphia, Pittsburgh, and Baltimore, and also plan on releasing free iPhone and Android apps in the near future.
###
Seva Search, Inc. based in Potomac, Maryland just released a virtual concierge service that seamlessly connects consumers with local businesses in near real-time via the Seva Call proprietary platform. Seva Call saves consumers time by finding high quality businesses that can meet their needs at their convenience. Local businesses receive detailed consumer requests leading to quality matches. In September 2011, Seva Search, Inc. raised $1.3 million from investors, entrepreneurs and angels.