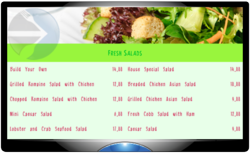 Have 1080P HD Menu Displays up and running within hours!
Las Vegas, NV (PRWEB) December 20, 2012
Next Gen Dine, the Future of Restaurant Dining, is proud to announce its latest product offering: Cloud-Based Digital Menu Displays for Restaurants.
Display sizes range from 32" to 60", and all are fully digital 1080P HD quality. The brightness, sharpness, and eye catching appeal simply cannot be matched by traditional light-box menu boards. Traditional menu displays cost upwards of $1000, are static, and require much effort to maintain. Next Gen Dine Digital Menu packages start under $1000 fully installed, and can be maintained by an average Internet user anywhere at any time.
Next Gen Dine Digital Menu Displays are extremely easy to manage from any Internet connection. Features include the ability to have an unlimited number of slides, menu items, adjust fonts, colors, images, control the transition speed of menu screens, set timers, and fully control the effects. Additionally, installation is non-intrusive. The only requirements are a wall/ceiling mount and a power cable. Everything else runs via WiFi and connects directly to Next Gen Dine's own private cloud infrastructure which is directly hosted on the Zayo fiber backbone.
In additional to the Digital Menu Display, Next Gen Dine offers a full featured, iPad Restaurant Point of Sale solution. Servers can enter orders directly at the table, send orders to the kitchen without leaving the floor, and take customer payments at the table all in real time. The solution is 100% cloud based so again, there is no intrusive installation required. Because Next Gen Dine runs on state-of-the-art mobile hardware, start up costs are drastically less than a traditional, PC-based point of sale system.
Next Gen Dine believes in fusing the latest technology, innovation, and future-forward ideas for the Restaurant and Hospitality industries. Check out the Next Gen Dine booth at the Las Vegas Nightclub and Bar Convention and Trade Show on March 19th, 2013.