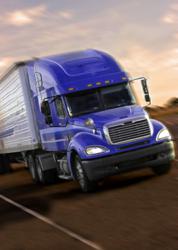 We at Jim Palmer Trucking are extremely excited about the relationship we've been able to forge with OnRamp.
Salt Lake City, UT (PRWEB) December 19, 2012
OnRamp Transportation Services, the nation's premier equipment leasing, sales and contractor services company, today announced a multi-year agreement to lease tractor equipment to Jim Palmer Trucking, the Missoula, MT transportation carrier. The agreement is to lease approximately 100 2012 and 2013 Class 8 sleeper cab tractors. The agreement is stated to be valued at over $7.5 million.
The trucks, said Jon James, Vice President of Sales and Marketing for OnRamp Transportation Services, will be delivered over the course of the next 90 days at a pace of about 35 trucks per month. "This agreement is a fantastic win-win for both organizations," said James. "For Jim Palmer, to lower the average age and reduce what can be overwhelming maintenance costs is a huge win. For OnRamp, to be able to service a company here in the Intermountain West is great."
James went on to note that small- to mid-sized transportation carriers that run one to over 100 trucks have been struggling in the recent economy to acquire the financing they need to upgrade their equipment. "Carriers are holding on to their equipment longer, due in part to economic uncertainty but also in part to their inability to find a financing partner. Many banks got burned in the recession of 2007 to 2009, and are now once bitten twice shy. This forces carriers to hold on to equipment, which can be a drain financially and affect customer service when deliveries are delayed due to maintenance issues. We are very happy to be a provider who helps these small- to mid-sized carriers."
"We at Jim Palmer Trucking are extremely excited about the relationship we've been able to forge with OnRamp," said Joe Kalaft, President and CEO of Jim Palmer Trucking. "It's a true win-win situation, allowing OnRamp to expand its business operations while allowing us to upgrade our fleet infrastructure with the best equipment on the market. This will allow us to remain competitive as one of the nation's premier refrigerated truck lines."
OnRamp markets its line of partially used tractors throughout the nation through its Chicago-area and Salt Lake City-area distribution hubs.
About OnRamp Transportation Services
OnRamp Transportation Services is a wholly owned, privately held equipment leasing, sales and contractor services company headquartered in Salt Lake City, UT. As a full-service transportation resource, OnRamp is the first company to offer both equipment and business services to carriers, contractors and owner-operators. Along with its EQUINOX business services arm, OnRamp exists to help hard-working, independent-minded people be successful within every aspect of their trucking and transportation businesses. To learn how OnRamp Transportation services can help, call 1-800-207-5848 or visit http://www.onramptransportation.com, http://www.facebook.com/OnRampTrans or http://www.twitter.com/OnRampTrans.