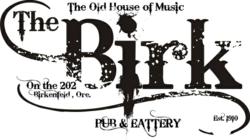 Birkenfeld, Oregon (PRWEB) December 28, 2012
This New Years Eve experience The Birk On The 202, an electrified, lively, funky music venue nestled in old growth firs and outlined by the Nehalem River. This historic House of Music is saturated with warmth the minute one enters the room. The Birk has welcomed some of the best music talent in the northwest with its accustic and studio like sound and will proudly have on stage Kivett and his band to bring in 2013.
Kivett Bednar and Anthony Pausic are the core members of a progressive blues-based project out of Portland, Oregon. In 2001, Kivett transplanted his strong roots in juke-joint double-shuffle from Austin, Texas to Boston, where he received formal training in performance and audio engineering. After a brief stint back in Austin, he left behind the plains of central Texas for Portland. Serendipitously, his arrival coincided with that of Anthony, who had also recently moved to the city. What started as a convenient musical outlet soon blossomed into a partnership.
The future is wide open for these musicians.