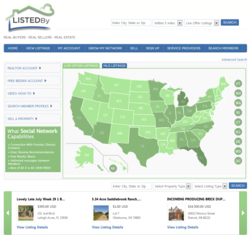 Our partnership builds on great synergies, strengths and appeal within the real estate investment market segment.
NAPA Calif. (PRWEB) December 26, 2012
ListedBy (http://www.ListedBy.com), the first free online real estate marketplace and social network with live bidding public real estate auctions and 'Best Offer' functionality, and Revestor (http://www.revestor.com), a real estate platform that enables home buyers and investors to instantly evaluate a property's likely returns, today announced a co-marketing agreement that builds on a number of synergies between the two organizations, including strengths and appeal within the real estate investment market segment.
The partnership incorporates a revenue share component and covers multiple cross-platform exposure and promotion programs.
"We are very pleased to partner with Bill Lyons and the Revestor team," said Stephan Piscano, CEO and Co-Founder, ListedBy. "Buyers on ListedBy.com are looking for the type of analysis that Revestor provides, and Revestor users will benefit greatly from the free exposure ListedBy.com offers to help investors market assets to our highly targeted buyer community."
"We are excited to offer to ListedBy members an additional tool for success, as we are about bringing to Revestor users the ability to research and buy investment properties including off-market assets on ListedBy," said Bill Lyons, CEO and Member, Revestor.
Consumers and real estate investors across the United States can use Revestor's technology in their home buying process to estimate the risks involved with a home purchase and expectations for future potential performance of specific properties.
ListedBy members use the platform to research MLS listings nationwide and to view, bid on, or purchase homes and investment properties instantly online. Users can submit a 'Best Offer' on a desired property, or purchase the asset outright through the Buy-It-Now function. Buyers can also bid on listings through on-going commercial and residential real estate auction events on the site, including real estate foreclosure auctions, completely free of charge.
About Revestor
Revestor is a new real estate marketplace for consumers and investors to search homes for sale. With their patent pending technology, anyone buying real estate can search the unique application to find homes estimated to offer the best return. Users apply the information to make buying decisions that will benefit them in the long run, whether as a place to rent, live or invest in. For more information, visit http://www.revestor.com.
About ListedBy
ListedBy is the first free online real estate marketplace and social network with live bidding auction and 'Best Offer' functionality. Buyers, sellers, real estate professionals and service providers join ListedBy to network and to list, research, buy and sell real assets in a collaborative, transparent environment. ListedBy is headquartered in Napa, and is privately funded. For ongoing news, please visit http://www.listedby.com/about.
# # #
ListedBy, LB Social and the ListedBy logo are trademarks or registered trademarks of ListedBy, LLC and / or its affiliates in the U.S. and other countries. Third party trademarks and brands mentioned are the property of their respective owners.