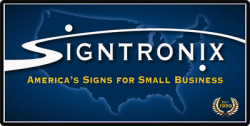 Jacksonville, FL (PRWEB) December 19, 2012
Signtronix is opening the company's newest regional sales office in the Jacksonville, Florida, community. As the largest sign company in America for small businesses, Signtronix offers many different sign options that will meet virtually any need. Al Borgers will manage this new regional office.
After leading the Salt Lake City, Utah, regional office, this move is a great opportunity for Al. "My time in Salt Lake City was full of very good years," says Borgers, "but I am very excited to be in Florida and to bring our incredible signs to business owners in the area."
"I've been with Signtronix for almost 20 years for a very good reason. I believe in our signs and what they do for our customers. Every year I get letters and calls from my customers who tell fantastic stories of improved business or improved community relations or any number of other things that can go right for a business. It's truly amazing that this one product can make such a positive impact on a business" said Al.
In a discussions with Tom Johnson, Jr., Director of Marketing at Signtronix, he shared his opinion of the new Jacksonville, Florida, regional sales manager. "I can't say enough tremendous things about Al. He is a positive force everywhere he goes. He is always smiling and excited about doing what he does every day. He once told me he loves his job because all he does is talk to business owners. He is able to provide something that he knows in his heart will help their businesses grow – and will help them live better lives because of this growth."
The Signtronix Jacksonville regional office is open and available for appointments with business owners throughout the area. Decision makers should contact the office to set an appointment with one of the sign professionals. Anyone in need of new, or replacement, signage in the Jacksonville vicinity should call 1(800)729-4853. Our sales people will be glad to work with business owners to design the best combination of interior and exterior signs to meet each business need.
About Signtronix
Signtronix (http://www.signtronix.com) is the premiere sign manufacturer for small businesses across the United States. The company was founded in 1959 and has helped more than one-half million customers in more than 50 years in the sign business. Signtronix offers many different sign products from outdoor electric signs, LED messages signs and indoor and window signs to help America's small businesses get the exposure they need. Signtronix is proud to be an ESOP company, which is owned and operated by its employees.
To view Signtronix on Facebook then visit http://www.facebook.com/signtronix or you can join us on Twitter at http://www.twitter.com/signtronix.
To learn more about Signtronix please contact Tom Johnson, Jr. at trj2(at)signtronix(dot)com.