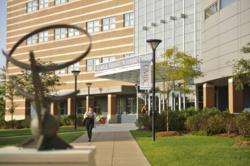 Rockville, MD (PRWEB) December 19, 2012
Beginning Fall 2013, a Cybersecurity Master's in Professional Studies (MPS) will be available at UMBC at The Universities at Shady Grove, the Division of Professional Studies at University of Maryland, Baltimore County (UMBC) announced today.
The Cybersecurity MPS provides students the essential knowledge required to serve in leadership and operational roles throughout the industry. Through the program, students will learn how to analyze cybersecurity risks and assess available countermeasures. The program will expose students to practical managerial and operational considerations needed to conduct cybersecurity activities for large organizations.
"Cybersecurity is critical to business and government today, and there is burgeoning demand for qualified leaders, particularly here in the National Capital Region," said Chris Steele, Senior Associate Vice Provost. "UMBC Cybersecurity Master's Program's expansion to The Universities at Shady Grove creates more opportunity for regional IT professionals to grow into cybersecurity operational and leadership roles and manage important security initiatives."
UMBC at The Universities at Shady Grove will host an information session on April 24, 2013 from 6:30-8:00 p.m., where information about the coursework and format of the program will be shared in detail. Prospective students can learn more by visiting: umbc.edu/shadygrove/cyber.
About The Division of Professional Studies
The Division of Professional Studies at UMBC offers a variety of high-quality master's, graduate certificates, special courses and non-degree training programs. Building on UMBC's strength in cutting-edge research and academic excellence, these programs provide relevant skills, knowledge and credentials in high-demand areas of study. For more information, visit: umbc.edu/dps.
About UMBC at The Universities at Shady Grove
The Universities at Shady Grove (USG), located in Rockville, MD, is a consortium of nine universities within the University System of Maryland. UMBC, a public Honors University, is among the institutions at USG. Like students on the UMBC main campus, more than 360 UMBC Shady Grove students benefit from small class size (average of 18), close faculty-student collaborations, and a diverse student population. USG is conveniently located in Montgomery County, a Washington D.C. suburb close to many government agencies, contractors and major healthcare organizations. For more information, visit: umbc.edu/shadygrove