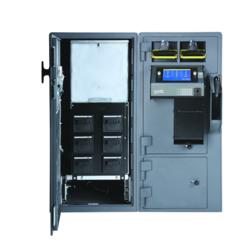 The Sentinel SCD was designed for the customer who deals in high volume cash and puts a premium on the security of their bills.
Milwaukee, Wisconsin (PRWEB) December 20, 2012
Expanding the company's presence in cash management, Data Financial, Inc. has announced the company's first installation of SmartSafe technology in a Famous Dave's Restaurant in the Western United States. Tidel is the recognized world-wide leader in cash handling solutions for retail, quick-serve and casual dining operations. Products include basic cash drop systems to sophisticated automated cashier kiosks designed to provide users with real-time cash accountability.
"We have been very focused on reaching the owners of restaurant franchises to provide information and education on the value of the Tidel Sentinel SmartSafe" according to Bob Haizel, General Manager of Retail Products for Data Financial, Inc. "We are keenly aware that restaurant franchisees, c-store operators and market owners face significant cash exposure challenges every minute they are open to the public. The Tidel secure cash solutions address those challenges, from the most basic need to store cash securely to cash management software solutions which provide owners with valuable information," said Haizel.
Data Financial, Inc. is offering the TACC, Sentinel and Revolution products throughout the US. As an authorized Tidel sales and service partner, the company offers a dedicated web site for easy on-line ordering. On-line, live-chat and telephone support is available, including on call support on weekends and holidays.
View the company's web site at http://www.datafinancial.com/tidel.
As one of the largest manufacturers of cash management and security equipment, Tidel produces the TACC, Sentinel and Revolution family of Cash Management Systems with flexibility and efficiency in mind. Data Financial, Inc. is a sales and service provider for the entire Tidel product line. These advanced products integrate across network operations, innovative software controls, and complete the cash management loop. "At the most basic level, Tidel products offer our users increased security and efficient end-of-day processing," said Jim Holtz, Data Financial, Inc. President and CEO. "Tidel's leadership in developing the most advanced and reliable cash management systems will only further enable us to provide the best possible services to our customers," Holtz said.
In addition to providing competitively priced products to Famous Dave's and other restaurant operations, Data Financial, Inc. offers product support, service and upgrades to current Tidel users. For more information on the Tidel product line, contact Bob Haizel at 1-800-334-8334 or via email bhaizel(at)datafinancial(dot)com.
About Data Financial, Inc.
Founded in 1983, Data Financial, Inc. offers financial institutions, retail, and commercial customers comprehensive solutions for automating cash, check processing and employer technology. System design, custom program applications, nationwide installation, and long-term maintenance are also available. A consulting and technical services staff is available to advise customers about Data Financial's cash and check processing products and software, currency and coin processing products, document security solutions, and archive tools. Custom systems and software are available to meet specific financial, retail, and banking needs.