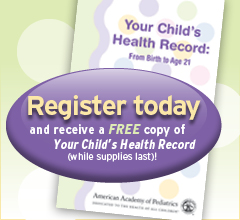 Chicago, IL (PRWEB) December 19, 2012
HealthyChildren.org, the official American Academy of Pediatrics website for parents, is offering new registered users a free copy of "Your Child's Health Record" while supplies last.
Normally available only through pediatricians' offices, "Your Child's Health Record" offers parents a clear, concise method for tracking and recording their child's pertinent health information from infancy through age 21. It includes easy-to-follow forms and records for birth data, physical examinations, developmental milestones, immunizations, illnesses, and dental visits.
About HealthyChildren.org
The only parenting website backed by 60,000 AAP member pediatricians, HealthyChildren.org offers trustworthy, up-to-the-minute health advice and guidance for parents and caregivers, along with interactive tools and personalized content. Registered users enjoy a customized home page that features articles geared to the ages of their children. The site also offers a Find a Pediatrician service, an Ask the Pediatrician tool, the KidsDoc Symptom Checker, and more than 3,000 articles on children's health.