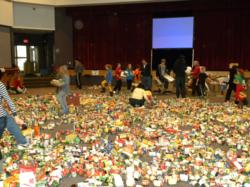 North Ridgeville, Ohio (PRWEB) December 21, 2012
For over 30 years Lake Ridge Academy students have participated in the annual holiday project. Starting after Thanksgiving and running until winter break, K-12 students collect clothing, canned goods, and coins to be donated to needy families in Lorain County, Ohio.
The day before winter break, upper school students will be paired with lower school students and together they make placemats, cards, candy bags and count and roll the coins. Last year, the total coins collected amounted to over $1,500.00!
Middle school students go shopping with the funds raised to select and buy a present for a designated child in need. The money will also be used to purchase food for the Three Kings Dinner which will take place on Saturday January 5th, 2013. Together with Christ Evangelical Lutheran Church, Lake Ridge Academy will invite families from the community to come enjoy a dinner prepared by the church and served by our students.
Each child from the community who registered will receive a bag of gifts presented to them by the "Three Kings" and each family will take home bags of groceries.
The collections from the project will fill the church's food pantry and help families in Lorain County. Thank you to all of the students for their hard work and good will!
About Lake Ridge Academy
Lake Ridge Academy is an independent, nonsectarian day school offering co-educational classes from kindergarten through grade 12. Founded in 1963, Lake Ridge Academy is committed to providing small class sizes and maintains an 8:1 student ratio. Located on a beautiful 88 acre campus, we are the only independent college preparatory school on Cleveland's west side. Our mission is to send into a changing world confident young people of integrity who think critically and creatively while embracing the joy of lifelong learning.