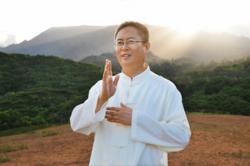 I have the power to heal myself. You have the power to heal yourself. Together, we have the power to heal the world. - Dr. and Master Zhi Gang
New York, NY (PRWEB) December 20, 2012
It is usually the ending of one year and the birthing of a new year when people look to change their lives and embark on self-discovery. Lately, in a world marked with uncertainty, wars, violence, ruin and natural disasters, more people are seeking peace and harmony in these unsettling times. To help change the negative frequency and vibration surrounding the earth and humanity, the Soul leader Dr. and Master Zhi Gang Sha's Divine Channels will chant continuously 24 hours a day for 15 days from Sunday, December 16 through Tuesday, December 31, 2012. Individual participation for the World Love Peace and Harmony Free Global Chanting Teleconference is free with registration available on http://www.DrSha.com.
Dr. and Master Sha's 15 day World Love Peace Harmony Global Chanting Teleconference was created to join people together, heart-to-heart and soul-to-soul to offer soul song blessings to humanity, all souls, Mother Earth and all universes to create love, peace and harmony. Divine soul songs and mantras carry divine frequency and vibration with love, forgiveness, compassion and light to help elevate the frequency of health, relationships, finances, and all aspects of life.
By joining the Love Peace and Harmony Chanting Teleconference for at least 15 minutes a day for 15 days, individuals will not only experience personal healing, inner peace, inner joy and life transformation in all aspects of life – they will be helping to heal Mother Earth & humanity and positively transforming the global consciousness. The World Love Peace Harmony Global Chanting Teleconference will sing and recite the Divine Soul Song Love Peace and Harmony in English and many other languages, including Soul language.
Each line of this Divine Soul Song has a special meaning and is a Divine treasure for self-healing and transforming every aspect of a person's life. The lyrics for this Divine mantra are simple and can be downloaded from Master Sha's website and followed along by chanting with Dr. and Master Sha's Divine Channels:
Lu La Lu La Li
Lu La Lu La La Li
Lu La Lu La Li Lu La
Lu La Li Lu La
Lu La Li Lu La
I love my heart and soul
I love all humanity
Join hearts and souls together
Love, peace and harmony
Love, peace and harmony
The first line, I love my heart and soul, is a soul mantra for self-healing and transforming every aspect of your life. Love melts all blockages and transforms all life.
The second line, I love all humanity, gives love to all humanity in order to make humanity happier and healthier. Imagine millions of people giving love to humanity. The consciousness of humanity and Mother Earth's consciousness would be instantly transformed. It brings a soul healing wave to humanity and Mother Earth.
The third line, Join hearts and souls together, is a divine calling. To join hearts and souls together with humanity, Mother Earth, countless planets, stars, galaxies and universes, is exactly the way to reach Divine Oneness.
The final lines, Love, peace and harmony, are to create love, peace and harmony for humanity, Mother Earth and all universes. This is the ultimate goal of the Love Peace Harmony Movement™.
Why Does Humanity Need Love Peace & Harmony?
Master Sha teaches a universal Tao principle that reincarnation happens to everything. Not only do human beings reincarnate, but Mother Earth does too. Mother Earth's reincarnation goes through a cycle of eras, each lasting fifteen thousand years. Since 2003, the earth has entered into the Soul Light Era which is the era in which soul over matter will be prominent.
The beginning of this era has been marked by floods, blizzards, droughts, famine, disease, political, religious and ethnic wars, economic challenges, vanishing plant and animal species and other upheavals as part of this transition. Dr and Master Sha says, "In response, millions of people are suffering from depression, anxiety, fear, anger and worry. They also suffer from pain, chronic conditions and life-threatening illnesses."
Mother Earth is going through a very special transition marked by intense purification. Humanity is enduring suffering because of negative Karma created over thousands of years of wars, killing, greed, stealing, cheating, taking advantage of others and other atrocities of humanity. Dr. and Master Sha says, "by damaging Mother Earth by clearing out forests, wrenching natural resources from the land and water, testing nuclear weapons, pollution and causing the extinction of her animal inhabitants, we have created very bad karma. Karma is cause and effect. We've caused harm to ourselves, our families, our communities and Mother Earth. When you produce so much negative energies we throw off the natural balance of nature. We have to reconnect our energies with nature and bring our lives back into balance with the Mother Earth."
To register for the free teleconference and to find out more information about Dr. and Master Zhi Gang Sha, go to http://www.DrSha.com.
Dr. and Master Zhi Gang Sha has six Soul Power Centers around the world, more than 80,000 followers on Facebook and over 200,000 devotees worldwide. There are more than 1,000 Soul Healing miracle videos posted Dr. and Master Sha's YouTube Channel (http://www.youtube.com/zhigangsha ), with over 1.1 million views. Everyday people all over the world are experiencing personal Soul Healing miracles and sharing their video testimonials so that others can benefit from these powerful and life-changing results.
# # #
Dr. & Master Zhi Gang Sha is a soul leader, a world-renowned master healer, and a divine servant. He was trained as a conventional medical doctor and a doctor of traditional Chinese medicine. The founder of the Institute of Soul Healing and Enlightenment™ and the Love Peace Harmony Movement™, Master Sha is a grandmaster of many ancient disciplines, including tai chi, qigong, feng shui, and the I Ching. Master Sha is also an expert in the most advanced cellular healing science now occurring in China. In the West, he is involved in breakthrough research on the effects of spirit on the human system. Dr. Sha was named Qigong Master of the Year at the Fifth World Congress on Qigong. In 2006, he was honored with the prestigious Martin Luther King, Jr. Commemorative Commission Award for his humanitarian efforts.
Master Sha is author of more than 12 books published by Simon & Schuster (Atria Imprint), Dr. Sha's most recent New York Times bestselling book, Divine Healing Hands (September, 2012) topped national bestseller lists within 24 hours of publication and his 2011 book, Tao Song & Tao Dance was also a New York Times bestseller. All of Dr. Sha's Soul Power books, DVDs and CDs, reveal soul secrets, wisdom, knowledge and practical techniques to transform every aspect of life, and are bestsellers throughout the world. Visit Dr. Sha on his website http://www.DrSha.com and receive free daily Divine Healing Hands blessings via webcasts, teleconferences and in-person at events held throughout the world. You can also Like Master Sha's page at http://www.facebook.com/DrandMasterSha.