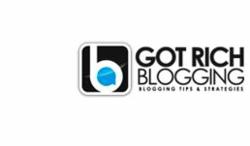 Blogging is arguably the most effective delivery vehicle on the Internet today.
FORT LEE, New Jersey (PRWEB) December 19, 2012
Marble Media LLC has launched GotRichBlogging.com, a new blog site aimed at helping aspiring bloggers get their online message started.
Marble Media's experienced in-house bloggers have created a comprehensive site that is already attracting an impressive following. Through GotRichBlogging.com, these experts have created content that describes some of their own mistakes and successes to help new bloggers determine what to avoid, and what to embrace.
Blogging is arguably the most effective message delivery vehicle on the Internet today, and an expertly written and optimized blog can earn its author plenty of attention.
Topics include social media strategies, characteristics all great bloggers share, and analyzing the competition's blog. All readers need to do is apply the information offered to their own blogs in order to achieve new heights.
GetRichBlogging.com offers tips, advice, and instructions on driving traffic to the site, guidance on incorporating Google Adsense, strategies for connecting to Facebook and Twitter and more. Creating and maintaining a successful blog must be approached like a job. Designate a set time and number of hours to work on it daily, and keep writing.
Becoming a successful blogger is a matter of expertise, research, dedication and promotion. Those who commit themselves to understanding the art and science of blogging and put their knowledge to practice will be the bloggers who find riches.
For more information on starting and maintaining a successful blog, visit the GotRichBlogging.com website, or email info(at)GotRichBlogging(dot)com.
About Marble Media LLC:
Marble Media LLC is a creator of high-quality, content-rich blog sites that provide expansive coverage of relevant information to readers who make up a wide range of demographics. The Marble Media LLC team of expert writers covers a wide range of specialties including travel, food, health, fitness, social media, marriage, parenting, technology, weight loss, fashion and much more.
For more information on Marble Media LLC's offerings and advertising opportunities, visit the MarbleMediaLLC.com website, or email sales(at)marblemedia(dot)com.