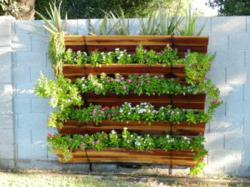 Ease of use and ease of assembly is a trademark to the Flower Street Urban Garden
Phoenix Arizona (PRWEB) December 19, 2012
Flower Street Urban Gardens has been busy preparing for the holiday season; meeting with excited new customers, taking measurements, and doing installs in time for the holiday that's right around the corner.
This is a great time to place an order due to the limited time promotion Flower Street Urban Gardens is currently running which includes the choice of either a free installation with purchase or $50.00 off retail price.
This season give a gift of sustainability and one that continues to grow before your eyes or the eyes of a loved one, a gift that gives back every day of the year.
The patent pending design of every Flower Street Urban Gardens features 12" of depth in each tier, which lends the system the capacity and capability to grow a myriad of different herbs, vegetable, plants, and flowers.
Customers of Flower Street Urban Gardens are finding out the potential for growing a variety of root vegetables including beets, radishes, turnips, and carrots all of which require a foot of depth to be able to root properly.
Ease of use and ease of assembly is a trademark to the Flower Street Urban Garden system of vertical gardening and offers a sure-fire approach that guarantees results to the seasoned gardener and the novice alike.
The stunning redwood finish adds rich color, texture, and contour to blank wall space, in addition Flower Street Urban Gardens can also be hung to balcony railing, rod iron fences, or between posts.
Flower Street urban Gardens wishes the community a vibrant and rewarding conclusion to 2012 and is eager to meet the demand for new customers, so make sure to place your orders while supplies last for the holiday season and the first of the year!
Contact Alex at 602-327-6560 with any questions and visit us at flowerstreeturbangardens.com