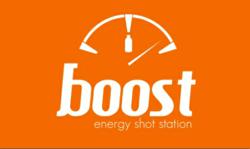 Las Vegas, NV (PRWEB) December 20, 2012
The Boost Energy Shot Station was designed for vending entrepreneurs to capitalize on the fast growing Energy Drink and Energy Shot Vending markets.
Athletic clubs, airports, colleges and office buildings are among the hundreds of potential locations in which Boost machines thrive.
Energy shots are among the most dynamic, fastest growing products in the beverage industry and have become to fuel of choice for everyone from professional athletes to everyday, hard-working people. With The Boost Energy Shot Station, consumers have the ability to "choose their fuel" conveniently and immediately.
In 2011, energy drink/shot sales skyrocketed 16% to 8.9 Billion in US Sales. Offering a unique, patented energy shot vending system designed to capitalize on an untapped market, Boost has carefully selected the most beneficial and effective energy shots out there, providing top of the line products with minimum caloric content, natural vitamins and the amount of caffeine equivalent to a single cup of coffee. Among the available products are 5 Hour Energy, FRS Healthy Performance, Stacker 6 Hour Power and SK Energy.
Boost Energy Shot Station is also excited to introduce VendScreen- a touch and swipe interface that allows for cashless payment, data tracking, advertising, promotions and product nutritional information displays.
What makes The Boost Energy Station particularly unique is the Charitable Locations Program, which involves supporting local charities by donating a monthly portion of vending machine proceeds.
Appropriately, Las Vegas, Nevada will host the Boost Energy Shot Station Headquarters in the Howard Hughes Parkway Business Center.
For more information about The Boost Energy Shot Station, please call 1-800-392-3829 or send e-mail inquiries to info@energyshotstation.com. Visit the website at http://www.energyshotstation.com